Researchers from the University of the West of England have come up with a novel way of engaging pupils in scientific discussion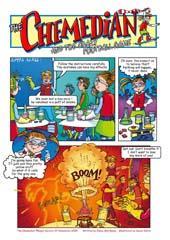 Researchers from the University of the West of England have come up with a novel way of engaging pupils in scientific discussion. Emma Weitkamp and Frank Burnet have developed a comic strip character called the Chemedian and written a 35-frame cartoon story related to the teaching of 'materials and their properties' at Key Stage 2 in the English National Curriculum.1
The characters and the story line were developed from a children's science play. The researchers' aim was to write a short comic story based on different properties of materials that pupils would find amusing and interesting to read. The story is about a football match at which the naughty Chemedian gives the losing team a helping hand. She does this by using her magic powers to change the properties of some of the materials, eg the football becomes a balloon and the pitch turns into an ice rink. This provides readers with opportunities to think about what will happen and to put forward explanations in terms of their understanding of materials.
The cartoon was tested in five primary schools in England and involved over 150 children aged 7-10. The pupils were asked to put stickers on the cartoon to show what they liked and didn't like and the researchers interviewed individuals about what they had read and done. Teachers were also asked for their opinions on the activity.
Feedback from the children showed that the majority of them found the comic fun to read and liked the Chemedian character, but there were a few who did not relate to this type of presentation. The pupils interviewed were able to apply appropriate vocabulary to describe the reasons why some materials work for a given purpose and others do not. However, the children found it hard to project the actions of the Chemedian to other similar situations based on the same scientific premises used in the comic. The teachers' responses to the comic were positive, commenting that it held pupils' attention and that boys in particular were engaged with the activity.
References
E. Weitkamp and F. Burnet, Int. J. Sci. Educ., 2007, 29 (15), 1911.