What makes this team of six teachers and one technician so inspirational?
The chemistry department at Newham Collegiate Sixth Form Centre (NCS) has been awarded the 2018 Royal Society of Chemistry President's Award for 'inspiring and showing students – often those with fewer opportunities in life than others – the importance of chemistry in the world and providing them with the best possible chance for the future to study at top universities'.
John Holman, president of the RSC, who set the criteria for this year's award comments, 'I have always been interested in inspirational teaching that goes beyond good exam results, engages students with their subject so they want to continue studying it and ensures they will remember what they have learnt for the rest of their lives. The NCS chemists are both inspirational and effective teachers and they work in one of the most disadvantaged parts of London.'
So, what makes the chemistry team of six teachers and one technician so inspirational?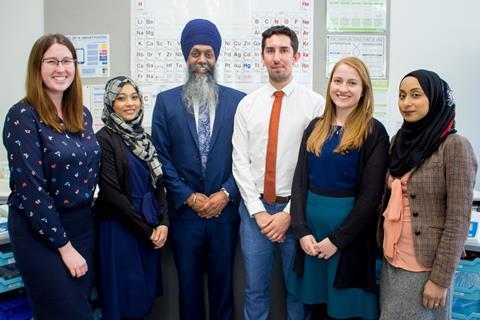 Head of chemistry at NCS Jacob Parslow explains, 'Our teachers are enthusiastic and knowledgeable about their subject and bring across that enthusiasm to their students. They are incredibly hard-working and care about their students, as shown by their commitment to planning lessons to support those students who are struggling but also to drive those students who are doing well. We do lots of experimental work to ensure that the course is as hands-on as possible.'
The team also puts on extra curricula activities, including talks by university lecturers and trips to research establishments. For the past three years A-level chemistry students have had the opportunity to visit a Japanese university, as part of an initiative run by Eric Albone at the Clifton Scientific Trust. 'We share a common vision with Eric to help young people from disadvantaged backgrounds get a valuable experience in science, one that will enhance their CVs and give them the skills and confidence they need to access top universities in this country and abroad,' explains NCS principal, Mouhssin Ismail.
Last year Jacob took six students to Kyoto University; they spent five days working alongside researchers investigating polymers. Afterwards, the students presented their work to a group from the university and from local businesses. 'It was an amazing experience for the students and for myself,' enthuses Jacob.
In addition, the chemistry team puts on experimental demos during National Science Week each year. They also encourage students to take part in various national competitions such as the Chemistry Olympiad and the Cambridge Challenge to engage them with their subject beyond what the curriculum tests. This is further supported by a 'super curriculum', which is a whole school initiative, and includes university-level material. This year explains Jacob, the head of science ran a module entitled What's in a medicine?.
NCS is a specialist maths and science sixth form with pathways in humanities. Currently 303 of its 500-cohort study A-level chemistry. This is mainly because they want to study medicine and dentistry, but, as Mouhssin points out, 'Last year 95% of our students received an offer from a Russell Group university, with 55% going on to study science-related degrees against the national average of 10%; nine went to Oxbridge, and one student went to study science at MIT.'
John says, 'Places like Oxbridge and MIT should be filled with students from all sorts of backgrounds – talent is not confined to well-off homes.'