Two days of innovation and sharing
The annual Variety in Chemistry Education meeting was co-hosted with the Physics Higher Education Conference again this year and over 90 educators descended on the University of Liverpool for two days of sharing innovative teaching methods.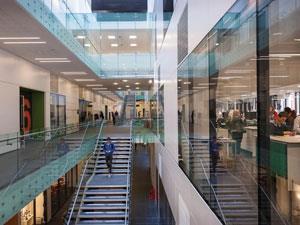 PeerWise continues to be showcased as a useful tool in student self- and peer-assessment. James Gaynor and Gita Sedghi (Liverpool) used PeerWise for embedding fundamental threshold concepts and as a revision tool. Kyle Galloway (Nottingham) used it as a way to introduce synoptic activities to address students compartmentalising their learning in line with modules.
The integration of transferable skills was another common theme. David McGarvey (Keele) described an information retrieval exercise using the Sigma-Aldrich catalogue. Dylan Williams (Leicester) described his new science communication module, which involves activities such as students acting as peer-reviewers and writing articles suitable for Chemistry World. The Chemistry: make a difference project was described by Chris Pask (Leeds). This module introduces students to the societal and environmental benefits of chemistry, along with commercial skills for activating these ideas. The module is due to be launched in October by the Higher Education Academy.
Some innovative outreach activities were highlighted. Paul Duckmanton (Southampton) involved undergraduate students in the design of an outreach video on the theme of catalysis, showcasing the university's research. The project measured the impact of the outreach initiative, which was useful for research assessment purposes. Kristy Turner (Manchester) described a pilot project where professors from the university taught a class to A-level students, with guidance from an experienced teacher. The process helped to demystify university for students and academics gained insight into the A-level curriculum.
Several presentations were laboratory focused. Laura Hancock (Keele) described her assessment of practical skills with Year 1 students and found that student confidence increased with these activities. Jane Essex and Katherine Haxton (Keele) ran a hands-on workshop on the Victorian Pharmacy, based on Jane's recent Education in Chemistry article. Suzanne Fergus (Hertfordshire) described her work on a framework for assessing competency in the laboratory. James Gaynor included 'Questions to Consider' in his laboratory manual, which prompted students to reflect on the rationale for certain procedural steps.
Many more talks and workshops made for an interesting two days, and participants continued the discussion on Twitter, archived by Simon Lancaster.
There is no shortage of things to try in the new academic year!