Tony Tooth looks at some websites that may be of interest to chemistry teachers.
Interactive Lab Primer
This site has been developed as part of the Royal Society of Chemistry's (RSC) Teacher Fellowship Scheme and is intended as a resource to support students as they move from working in a school laboratory to a university laboratory environment.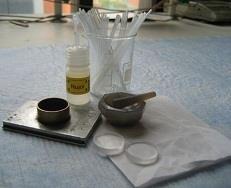 The site is divided into four sections: Working safely; Lab techniques; Lab apparatus; and Reference material. Working safely covers basic rules and procedures aimed at reducing risks to a minimum. The Lab apparatus gives labelled diagrams of a wide range of equipment and Reference material provides a glossary and other useful information such as common conversions, abbreviations and a Periodic Table. Probably the section of most interest is Lab techniques, which covers such things as assembling apparatus, chromatography, distillation, filtration, re-crystallisation and volumetric analysis. The headings lead to an apparatus guide and appropriate resources. This site will be very useful during A-level revision lessons in school as a way of saving time otherwise spent setting up the apparatus again.
Cardiff University Resource
This site promotes awareness of 'Uncovering Chemical Secrets', which is a practical, one-day A-level organic chemistry course that was conceived by the University's school of chemistry. It also, however, draws attention to a dvd that is independent of the course and can be used within lessons or as a 'stand-alone' support for students working independently.
Navigation through the dvd is straightforward and copies can be uploaded to any number of hard drives, allowing the resource to be used outside the school environment. The resource would make an excellent revision aid. The website provides both a Word document and a PowerPoint presentation that detail the content of the dvd as well as giving an order form.
The project has a unifying theme of the isolation and identification of chemical compounds that are important in taste and smell in some natural products. Examples chosen are relevant to the curriculum, and students learn how modern 'state-of-the-art' techniques and instrumentation are used to determine purity and gain insight into chemical structures and properties.
[Link no longer available]
Chemists' Net
Any teacher can become a member of this network and post questions or join in with discussions at any time. There is also a useful option to receive regular e-mails summarising the latest discussions. Well worth signing up to follow and join in with a wide variety of interesting discussions.
If you know of any websites that should be reviewed in Education in Chemistry, then e-mail the title or URL to TonyT@kings-ely.cambs.sch.uk