This is a very easy app to recommend as a starting point, or quick review, for any budding A-level chemists
ChemGym
Michael Docker
2013 | Web-based app | £4.99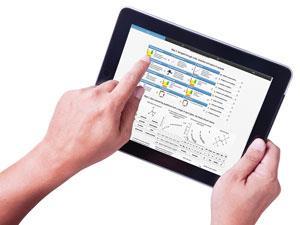 As a science teacher in a secondary school, I am constantly on the lookout for resources to augment the experiences of my learners. As a consequence, I was already aware of some of the fabulous resources to support students that science teacher Michael Docker makes available via his website. He has now taken this a step further and has begun work as an independent software developer. ChemGym is his first web-based app to support, specifically, A-level chemistry.
On opening the app you are a given a long list of exam boards to choose from, in order to ensure the specific syllabus requirements are met. You are then provided with an overview of the AS and A-level courses, which have been handily broken down into the specific examination modules. Each of these modules has been further subdivided into the component topics from the programme of study.
The user interface is very clean and within a few clicks the choice of topic is easily made. The revision exercises are short concise quizzes, typically multiple choice, although there are some very welcome deviations from this model. An example is the 'card sort' he has employed to name organic molecules. For me this is a particular highlight.
Each quiz is quite short and there are a number of options at the user's disposal to determine how the next quiz is selected and how the score is kept. My personal choice of having to achieve ten correct answers in a row before moving on certainly kept me on my toes. Whenever a question is answered incorrectly, the correct answer with a brief explanation is provided, which is an excellent feature.
With its ease of use and comprehensive syllabus content, this is a very easy app to recommend as a starting point, or quick review, for any budding A-level chemists and a tremendous 'first fruit' of Michael's labours.
Visit ChemGym at www.chemgym.net.