Experiments in green and sustainable chemistry
Herbert W. Roesky and Dietmar K. Kennepohl (eds)
Weinheim: Wiley-VCH 2009 | Pp307 | ?29.95 | ISBN978 3 52 7325546 7
Reviewed by James Clark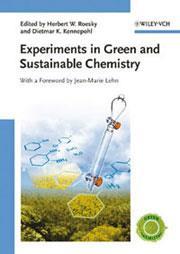 Green chemistry is a practical subject. While we can discuss the principles, debate its significance across a full product life-cycle, and argue for more legislative drivers, its value is in its application. This is because there are fundamental concerns over our traditional way of doing chemistry. We need to make our chemistry more efficient, less wasteful, more sustainable, and safer.
Practising chemists in industry have all learned practical chemistry through school, college and university experiments many of which were devised before green chemistry thinking became common and before sustainability was brought into mainstream education. There can be few more important goals than to influence the next generation of chemists through working on good examples of green chemistry at work. This can be done only through enthusiastic teachers and good material for them to work with. As a source of material for teaching practical green chemistry, this book is as good as I have seen.
This book avoids the trap of devoting many pages to educational theory or personal experiences of teachers - interesting though these are - but instead concentrates on what we really need, ie lots of good quality, proven case studies. Some 45 experiments written by 85 contributors from 15 different countries are described in sufficient detail but are, mostly, thankfully concise, enabling the reader to judge quickly their suitability for a particular course.
The book is somewhat arbitrarily divided up into: 'catalysts', including homogeneous and heterogeneous, metal and non-metal; 'solvents', where I would have appreciated examples showing a wider range of alternative solvents; 'high yield/one pot reactions' - with a surprising but not unwelcome bias towards inorganic syntheses since most green chemistry reported in the literature is based on organic chemistry; 'limiting waste and exposure', which covers such subjects as safe solvent disposal, avoiding hazardous substances, and recycling; and 'special topics' with subjects ranging from biogas to quantum dots, and including topical subjects such as demonstrating the greenhouse effect and CO2 capture.
The level of sophistication and practical difficulty varies as one would expect and some may be too expensive for less well off laboratories. However, the majority of experiments are suitable for any well resourced modern, undergraduate chemistry laboratory. They are not perfect with several including the use of substances that industry is trying to phase out. The difficulty with trying to bring together such a diversity of experiments is that there are inconsistencies between some of them. For example, one experiment might be designed to replace a solvent that is used as the solvent in another experiment. Rather like research articles on green chemistry, they are rarely perfect but we should not let that deter us - after all 'it's not easy being green'.