Neil Dixon reviews this software package of lesson kits for chemistry
Lesson kits for chemistry: crude oil - organic chemistry; quantitative chemistry
Birchfield Interactive
Cardiff: Birchfield Interactive 2006 | £149.95 per kit topic |
Reviewed by Neil Dixon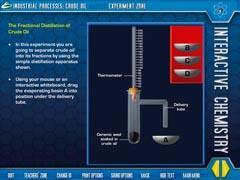 This software package is supplied on a DVD-ROM and takes about 10 minutes to install, which is not surprising given the quantity of resources that are included. The colour quick start guide does as it says and teachers who are short of time can quickly access ready-made animated presentations and interactive activities suitable for GCSE, and possibly some A-level, topics related to organic and quantitative chemistry.
The instant lessons are of a good standard, featuring excellent resources that are almost always scientifically accurate, though it was disappointing to see a chlorine atom displayed as CL in an animation of bond breaking. The text is narrated which might prove useful when students (especially those with special needs) use the learning materials independently.
The software does not utilise Microsoft Office tools, so you cannot use symbols such as Δ which is critical when discussing enthalpy changes. Another small point is that the choice of text font does not easily distinguish between a lower case l and a capital i, which is a shame for chlorine.
The package includes a facility for teachers to build their own lessons from the library of animations. This takes a few minutes to get used to, but having familiarised themselves with the resources available, teachers can save the lesson for viewing through the supplied Birchfield software or export the lesson, complete with animations and narration, to a PowerPoint file.
The latter option is an enormous strength because some teachers will prefer to incorporate the excellent Birchfield resources into their existing PowerPoint presentations. From here, the text can be easily customised (including adding Δ symbols).
The software supports e-learning as well as e-teaching, and is well set up for students to access while working individually, either in the classroom, or from home via a web connection. When students (and teachers) first use the software, they are required to enter a username and password and select their class. This allows the teacher to monitor students' activity and progress by using the integrated Birchfield assessment tool, and the data generated by this feature can be easily exported to an Excel markbook.
It is important that developers are constantly improving the content, functionality and flexibility of their software. Having raised several concerns with Birchfield Interactive, they assured me that these will be corrected quickly and the updated versions made available remotely to existing users via the automatic web-connected service. The developers at Birchfield Interactive have successfully created a high-quality, integrated suite of teaching, learning and assessment tools which, through its flexibility and wealth of animations and interactive activities, should appeal to most chemistry teachers.
Related Links
Birchfield was formed in 1997 with a vision to create advanced educational multimedia resources