Peter Hughes reviews this selection of Mrs Marcet's conversations on chemistry
Chemistry in the schoolroom: 1806 - selections from Mrs Marcet's Conversations on chemistry
Hazel Rossotti (ed)
Bloomington, US: AuthorHouse 2006 | Pp212 | £12.49 | ISBN 1 425 90534 X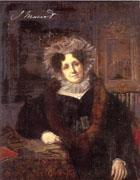 This book celebrates the bicentenary of the publication in 1805 of Mrs Jane Marcet's original Conversations on chemistry, which she was inspired to write after attending Humphry Davy's lectures at the Royal Institution.
Taken to the lectures by her husband, a physician at Guy's Hospital, Marcet found them fascinating but was conscious that she had insufficient scientific background to appreciate them fully. So her husband and his friends taught Marcet the basics of chemistry and then persuaded her to write a book designed to help others who also lacked this basic scientific education. The result was her Conversations on chemistry, in which Marcet covers topics in chemistry through imaginary conversations between a tutor, Mrs. B, and two teenage pupils, Emily and Caroline. For this commemorative text Hazel Rossotti, a former chemistry teacher, has written an excellent introduction which provides an insight into the biographical, scientific, literary and social context of Marcet's work.
To compile the content Rossotti has selected from Marcet's writings excerpts which nicely illustrate the state of chemical thinking between the death of Lavoisier and the rise of the atomic theory of Dalton. The treatment of combustion, the properties of hydrogen, carbon dioxide and hydrogen sulfide would all seem up to date to a modern reader. The principal outmoded idea is that of caloric, a concept which remained in use until it was superseded by the work of Joule 50 years later.
As well as giving us an insight into chemical ideas 200 years ago, the book shows that a study of science was an acceptable part of the general education of young ladies. Anyone interested in putting the history of chemistry in its social context would find this collection of conversations fascinating.