US researchers report on an online discussion system which is designed to integrate and support scientific discussions within the classroom
Changes in the science curriculum in England and Wales have brought about renewed interest in the use of discussion work in science. Much of the developmental work on this 'new' approach in science teaching has been done in parts of the US. Douglas Clark and Victor Sampson of Arizona State University, for example, have investigated an online discussion system which is designed to integrate and support scientific discussions within the classroom.1
The research focused on an investigation into thermal equilibrium by groups of 11-12-year olds. Initially students made predictions about the temperature of everyday objects in the classroom. They then used thermal probes to measure the temperature of these objects and put forward principles to describe the patterns they encountered.
When students inputted their ideas into a computer the software distinguished between those groups who believed that objects were at different temperatures because they felt that way and those who believed that objects in the room should be the same temperature as the room.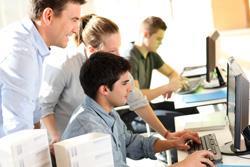 The software then placed students in discussion groups based on the different principles used to explain the data. The students were provided with a series of prompts to help them discuss the views of other groups. The researchers judged the quality of their arguments depending on the claims they made and the explanations used.
The results from the study showed that the quality of the discussions was at a much higher level than previously reported face-to-face discussion work. According to the researchers, this can be explained in part by the fact that the online conversations arose out of personal experience.
Clark and Sampson report that another positive factor for using this method is that the software provides the scaffolding for the discussions and therefore the need for extensive re-training for teachers is eliminated.
This article was originally published in The Mole
References
D. B. Clark and V. D. Sampson, Int. J. Sci. Educ., 2007, 29 (3), 253.