A summary of some useful talks from the "New Perspectives in Science Education" meeting held in March 2014.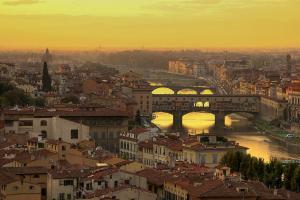 Last week I attended the "New Perspectives in Science Education" meeting, held in Florence. I usually attend chemistry specific education conferences like the Variety in Chemistry Education meeting (now held with The Physicists), but I was interested in this meeting as it was bringing together educators from all scientific disciplines. While I was a little disappointed with the meeting - some speakers didn't use their time allocation, some presented work without any consideration of evaluation, and some speakers didn't show up! - there were some good talks as well, and I am always happy if you can come away from a meeting with some useful ideas and concepts. I'm happy to report that many of these came from the chemists, and I've given some brief summaries below. There are corresponding papers for the talks, which have much more information and are available to view on the conference website at this link.
Ian Abrahams of Leeds, UK, presented an interesting talk on whether school practical work in the stage of education where science is compulsory motivates students to study science when they choose to do so. His study found that while practical work generated short-term engagement (96/97 students said they "liked" practical work), it did not engender a motivation to study science or develop a longer term interest in the subject. When students during the compulsory phase of science education said they liked the work, it emerged that they preferred it to non-practical activities, rather than any particular fondness for practical work itself.
On the topic of practical work, Jasna Adamov of Serbia gave a great talk summarising a research study on the benefit or otherwise of virtual laboratories. The students in the study (all aged 14) were assigned to three groups–one that did not do any experimental work, one that did experimental work, and one where the experimental work was virtual. The same teacher taught all three groups of students. The study examined test scores for all three groups which consisted of both theory and practical components. The average score of students without any experimental exposure was lower (63.6%) than those who did experimental work (79.7%) and the students who completed the virtual labs fell somewhere between (72.5%). A later test showed a similar trend, although the gap between virtual and real experimenters had closed. The speaker concluded that experimental work should be carried out where possible, but if it was not possible, virtual experiments may have a role to play.
Several talks where on contextualising chemistry and relating it to the real world. My favourite among these were Timm Wilke's talk (Germany) who spoke about using nano-TiO2 to present a range of introductory topics and included an easy way to extract the titanium dioxide from sunscreen (evaporate the volatile components and then calcinate with a blow torch). The project was part of a five-part workshop aimed at introducing nanochemistry to upper secondary students. Similar work from the same group was presented by Thomas Waitz on silica-based nanomaterials. Beulah MacManus from Limerick, Ireland spoke about the Teaching Enquiry with Mysteries Incorporated project, which aims to engage students by introducing a topic with a "mystery", so that students will want to know what the underlying principles are.
Finally Brett Moulding opened the conference with a talk on the National Science Education Standards project in the US, which aims to roll out a set of standards that all 50 states can (and ultimately will want to) adopt. He made an interesting point in the discussion afterwards, saying that a mistake in past iterations of considering inquiry education was to separate out the components, so that the process of inquiry was in one chapter and content was in another; with the result that students and teachers didn't relate the two. There's a salient lesson there for many education policy makers on this side of the Atlantic!