Motivate your students through competitions and inspire them to love STEM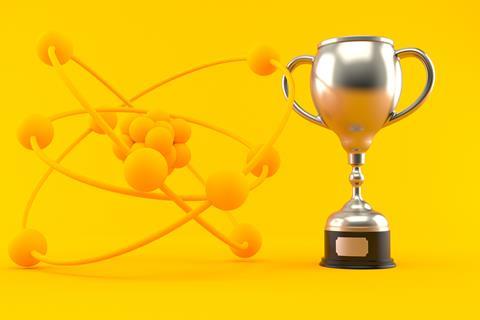 Science competitions are a great way to engage students, build on their practical skills and test their knowledge. Competition teaches the importance of teamwork, success and failure. You can also use competition materials in your lessons, as homework, or as part of an extracurricular science club.
Most competitions have changed to a virtual format this year. Nevertheless, the following competitions are a great way to motivate students, develop their practical projects and written skills and even be in with a chance of winning fantastic prizes.
Last updated: 11 December 2020
1. UK Chemistry Olympiad
Age: 16–18 (recommended)
Opens: 22 September 2020
Registration closes: 11 January 2021
The UK Chemistry Olympiad is designed to challenge and inspire secondary school students, encouraging them to push themselves to excel in the chemistry field. Run by the Royal Society of Chemistry, students will develop critical problem-solving skills and test their knowledge in real-world situations – and could even represent the UK in the prestigious International Chemistry Olympiad. Explore the past papers to get an idea of the types of questions involved.
Round 1 of 3 is scheduled to take place in January 2021 and comprises a written test, with round 2 (an online training weekend) scheduled for March. Find out more on the Olympiad homepage.
2. Top of the Bench
Age: 13–16
Opens: October 2020 (regional heats)
Registration closes: January 2021
Top of the Bench is an annual practical chemistry competition for teams of four, fueling excitement and curiosity about chemistry. First established over 20 years ago, it is a long-standing favourite for students and teachers. The regional heats will be led by RSC local sections between October 2020 and January 2021. The national final will take place in March 2021. The entire competition will take place remotely.
Contact your local section leader to find out more and register.
3. UK Junior Water Prize
Age: 15–20
Opens: now
Submissions close: February 2021
The UK Junior Water Prize (UKJWP) is a competition aimed at solving environmental challenges with a link to water. Students identify an issue and find a practical and innovative solution through research and experiments.
The UKJWP is run by the Chartered Institution of Water and Environmental Management in partnership with the Stockholm International Water Institute, who runs the international round of the competition called the Stockholm Junior Water Prize (SJWP). The winner of UKJWP will get an all-expenses-paid trip to Stockholm during World Water Week, representing the UK in the SJWP.
To get involved, students need to present their work as an academic report of no more than 20 pages. It's a great opportunity to practise writing in a way that is useful for wider study and improving scientific literacy skills, and it looks impressive on a university application.
4. MathWorks Math Modeling challenge
Age: 16–19 (Sixth form or equivalent, England and Wales only)
Opens: now
Registration closes: 19 February 2021 4pm ET (9pm GMT)
The Society for Industrial and Applied Mathematics is accepting students from England and Wales to participate in its Mathworks Math Modelling challenge for the first time ever this year. Up until now only open to students in the US, the competition aims to encourage pupils to explore STEM careers by demonstrating the relevance of maths, engineering and science outside the classroom.
Participants work in small teams, committing 14 consecutive hours on a designated weekend (this year: Friday 26 February–Monday 1 March 2021) to devise a solution to a real-world problem using mathematical modeling. Nine teams are then selected as winning finalists, among them three technical computing awards for teams that opt to include code in their solutions. A total of 37 monetary prizes, worth more than £79,000 in scholarships, are up for grabs and registration is free.
For more information and to register, visit the competition's website.
5. Schools' Analyst
Age: 16–17 (Year 12 or equivalent)
Opens: now
Registration closes: 26 February 2021
Run by the Analytical Chemistry Trust Fund and the Royal Society of Chemistry, the annual Schools' Analyst competition allows students aged 16–17 to expand their chemistry knowledge and skills through practical analytical experiments based on relevant societal or industrial problems. 2020 saw the competition cancelled due to the pandemic – but in 2021, it is open to students once again and will be operated in a socially distanced way.
This year's competition will be based on flame tests, thin layer chromatography and test tube reactions for anion analysis, all linked to a case study. Students will be asked to identify the contents of waste barrels found abandoned by a river in the fictional town of Allvale. Teams will be required to carry out some background research, followed by a lab session in which they carry out their analyses.
Schools and colleges will register their interest to host a heat and, if randomly selected, can then enter up to ten teams of three students to compete to be crowned the overall school winner. Each winning school team will then compete within their region to find regional winners.
Register your interest to host a heat in your school via the RSC events website by 26 February and the competition will run from 26 April–28 May. Students must be in Year 12 (England, Wales, NI), S5 (Scotland), Year 5 (ROI), or equivalent. Find more information here.
6. Newnham College essay competition
Age: 16–17 (female only)
Opens: now
Submissions close: March 2021
Cambridge's Newnham College essay competition is open to all girls currently in year 12 in a UK school and involves submitting an essay of no more than 2500 words answering one of a selection of questions. The STEM options include the biological sciences, computer science, mathematics and engineering. These prizes may be of particular interest to those studying biology, chemistry, physics or mathematics but entries are welcomed from students studying any combination of subjects. The first prize is £400, with the runner-up receiving £200 and third place £100.
The questions for the 2021 prizes were released in December 2020 and are on the competition website now. You can find out more about the competition and view the 2020 essay questions on Newnham College's website.
7. ECO Film Awards
Age: 11–18
Opens: now
Submissions close: 10 March 2021, 3pm GMT
The Eco Film Awards aims to develop students' environmental awareness and empower them to take green action. To get involved, students should produce a short film showcasing a project they have carried out to improve the environmental sustainability of their school. The competition focuses on sustainability through creativity and is open to all international schools, including applicant schools. Winners receive a £150 Amazon voucher.
8. Big Bang Young Scientists and Engineers competition
Age: 11–19
Opens: early January 2021
Submissions close: late March 2021
The Big Bang competition recognises young people's achievements in STEM and builds confidence in project-based work. The science stream focuses on investigation, discovery and use of scientific methods. Students can enter any project work they have completed at school, home or in a STEM club.
The first stage is online heats, where students compete for a chance to showcase their work at The Big Bang Competition Finals and get their hands on amazing prizes. Projects are judged by leaders in industry and academia, who provide feedback to all competitors/finalists to help them continue to build their ideas, skills and confidence.
As well as the opportunity to network with scientists, students can include their involvement in the competition in their extracurricular activities on UCAS forms and personal statements.
Find out how to get started and inspire students with past projects on the Big Bang website.
9. Peterhouse College Kelvin Science Prize essay competition
Age: 16–17
Opens: February 2021
Submissions close: April 2021
Similar to the Newnham prizes mentioned above, Peterhouse College also runs an annual essay competition for students in Year 12 or equivalent. The Kelvin Science Prize asks for a 2,000-word essay in answer to one of two questions and is an excellent opportunity for students to get a taste of university-level research. Again, winners receive cash prizes. The essay questions will be released in February 2021.
10. Crest Awards
Age: 11–19
Opens: all year round
Empower students to run their own project investigations and develop new skills with a CREST award. The resources library offers challenging and thought-provoking projects for students of different abilities at bronze, silver and gold levels and can be completed all year round.
Can you think of any other competitions taking place over the next year? Comment below so we can include them and let other teachers know.
Deadlines passed:
CanSat competition
Age: 14–18
Submissions close: 10 October 2020 for expression of interest
CanSat is a European Space Energy competition that gives students a unique opportunity to have their first practical experience of a real space project. They are responsible for all aspects: selecting the mission objectives, designing the satellite, integrating the components, testing, preparing for launch and then analysing the data. The winners of the UK CanSat competition will be invited to compete in the European CanSat competition.
UK Space Design competition
Age: 14–18
Opens: now
Submissions close: beginning of November (digital heats); 11 December (video submissions)
The UK Space Design competition (UKSDC) combines science, engineering and business as a simulation of life in industry, opening students' eyes to the vast potential offered by future study or a career in STEM. Teams of 8–12 students are given a list of requirements for a space settlement and tasked with coming up with a detailed design which they present to a panel of judges from industry, academia and business.
Teams can enter through the online digital heats or submit a video. In March, a selection of lucky winners will be invited to join the UK team and attend the International Space Settlement Design Competition (ISSDC) at Nasa's Kennedy Space Center.