Keeping teachers teaching is key, and adopting different working patterns may help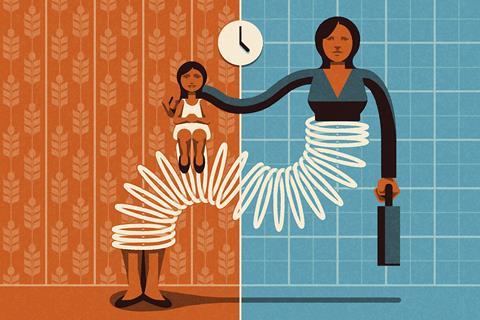 Recruiting and retaining teachers is a huge challenge for schools and colleges, and the Department for Education (DfE) has committed to improving access to flexible working hours in state-funded schools to help tackle this issue. In its January 2019 policy paper, Teacher recruitment and retention strategy, the DfE laid out four main strategies, one of which is to 'Support a career offer that remains attractive to teachers as their careers and lives develop'. This includes a commitment to supporting head teachers by transforming 'approaches to flexible working'.
It's no secret that retention is a particular problem in science and maths. A 2017 report by the National Foundation for Educational Research (NFER) states that the government should 'urgently look at ways of accommodating more part-time working in secondary schools to help alleviate teacher supply challenges', particularly in subjects like chemistry with 'specialist teacher shortages'.
Why are teachers leaving?
There are many reasons why teachers are leaving the profession – the workload and stress of the job are key factors – but the difficulty of fitting work around family life is a huge factor. The biggest group of leavers consists of women between the ages of 30 and 39, and more than half of the teachers who leave to raise a family never return to the classroom. Though co-head teacher Emma Turner is quick to note that flexible working 'is often misapplied just to those who have parenting commitments': besides a large, identifiable group of teachers leaving the profession after having children, there is also those, for example, with health limitations or caring commitments that make it impossible to have a full-time job. Holly Power, assistant principal and science teacher at Chelsea Academy, also knows teachers who simply want to do other things, for example a teacher who wants to teach part-time and also run a yoga school.
Holly set up Return to Teach, a social enterprise that matches experienced teachers with schools offering flexible working. '[When I was] in charge of A-levels, I could feel the impact of the teacher retention crisis,' she explains. 'I knew a lot of experienced teachers who had left teaching because they couldn't make it work full-time, some who [wanted] to drop their own children at school before work, and [other] older, more experienced teachers who want[ed] to only teach a few hours a week of a subject at A-level, but couldn't find a school that offered that. Meanwhile, we have students missing out on the teaching that these experienced teachers can offer. You can't put a supply teacher in front of an A-level chemistry class, and not all families can afford to top up with a tutor at home.'
Flexible working could be a solution to the work-life balance issue and could reduce teacher stress, but is unlikely to help with workload challenges. Kevin Courtney, joint general secretary of the National Education Union (NEU), says: 'Allowing teachers to work part-time when they wish will help keep them in teaching. Of course, many want to teach part-time due to the excessive workload in teaching, so tackling workload would make an even bigger contribution to solving the retention crisis.'
What does flexible working look like?
The DfE's policy paper lays out its three areas of flexible working focus: a new job-share service to help interested parties find opportunities, working with the sector to make sure quality tools exist to support workplace flexibility, and the creation of new specialist qualifications for those who want to progress without going down the usual leadership route.
Genevieve Millard, joint head of chemistry at Hockerill Anglo-European College, has recently taken on the role of head of department as a job-share. 'When the previous head left, a colleague who was teaching part-time was also interested, so we came up with a detailed plan of how we could share the additional responsibilities of the role. The DfE's job-share service sounds promising; I was lucky as I knew someone who wanted to share with me, but it's not always that easy, and [job-sharing] could help more teachers work in the way they want to.'
The pros and cons for teachers and schools
Emma has worked flexibly in multiple roles for 14 of her 23 years in education and is a passionate advocate for the benefits that flexible working can bring. 'It has huge potential for ensuring that teaching feels doable to far more colleagues than just those who are able to work full-time in a traditional working pattern,' she says. In December 2019, Teacher Tapp asked teachers if they wanted to work part-time. A third of respondents working full-time said they'd like to work a four-day week; another third wanted to work 3.5 days or less. But, interestingly, almost all full-timers said they had never asked; a further survey revealed that the majority of respondents thought their head teacher would reject the request. Seven in ten also felt that part-time working would damage their career prospects.
Genevieve understands the career progression concern. 'You see job advertisements, particularly for roles with extra responsibility, where one of the criteria is working full-time. This reinforces the idea that if you want to progress, you need to work full-time.'
When it comes to head teachers' reluctance to consider flexible working, Holly thinks they should have more confidence that it can work. 'Many worry about opening the floodgates; they want to be fair to all their staff and know they can't offer flexible working to everyone. But not all teachers want to work part-time; many want the higher salary of a full-time role and are happy with the hours.'
Another argument against part-time working and job-shares is that it makes timetabling more difficult; having a lot of part-time staff can become a limiting factor and result in split classes. But these factors don't have to be negatives. 'A class can benefit from [the] combination of an experienced teacher and someone more newly qualified, and from different teaching styles. In chemistry it's also easy to split topics down the middle,' Holly explains.
What about the pandemic?
If anything, the pandemic has shown us how flexible teachers and schools can be. 'Though,' says Emma, 'we must not fall into the trap of thinking that what happened was true flexible working. That was responding to and working (often remotely) during a global pandemic. Real flexible working is a beautifully crafted balance of the needs of the organisation and the individual; it is categorically not fumbling with new tech while trying to homeschool your own kids with your partner on a Zoom call in the background.'
Even though lockdown teaching wasn't true flexible working, the pandemic may have enabled people to envision working differently in the future. '[The pandemic] has bust a few myths that have endured in schools for too long,' continues Emma. 'The myth that people need to always be on site to get things done; the idea that the only way to conduct meetings or training is all in school sat around a plate of biscuits in a draughty classroom; the myth that PPA must be completed on site; the myth that you have to be available full-time to lead in a leadership role.'
The future is flexible
Teacher retention issues are complex and varied. Ultimately, the reasons that people seek more flexible roles have not disappeared in the wake of the pandemic, and may even have increased. 'People will still need to respond to changes in their lives,' adds Emma. 'New babies, health challenges, bereavement, additional study, dependants – life goes on.' With teachers out there still seeking flexible roles and the events of 2020 showing that there is more room for flexibility than perhaps previously thought, maybe the pandemic will succeed in showing people across the education landscape that there is scope for wider provision of flexible contracts.
'As an assistant principal myself,' reflects Holly, 'of course it would be easier for our school if there was an abundance of experienced chemistry teachers out there that we could [choose] from and they all wanted to work full-time – that would make life easy for everybody. But, for some schools, that isn't the case. If you want to find a good chemistry teacher, you may need to be more flexible in what you're offering. It's better to have an excellent teacher working four days a week than none.'