Spending some of the break preparing for a new term is inevitable. Here's how to get it done and still have time to relax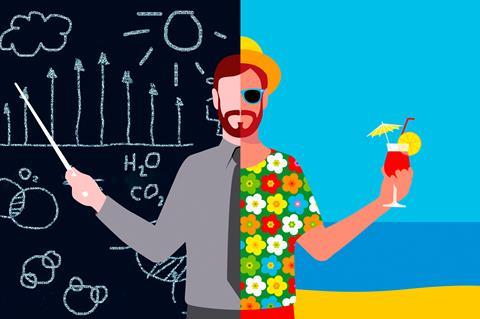 Chemistry teachers Laura Scoular and Hayley Russell have developed a firm friendship from their former mentor/mentee relationship. Here, they swap ideas on how to limit working hours and create achievable to-do lists
HAYLEY: I can't believe how glad I am that it's nearly the weekend.
LAURA: Yes, me too. I've found study leave to be particularly busy this year.
HAYLEY: I'm trying hard to avoid working all weekend, but I still have loads of preparation to do.
LAURA: Same here. I've been staying on later on Friday afternoons to get myself organised, in an attempt to keep my weekends free of work.
HAYLEY: I stayed behind to finish my reports and I'm going to restrict myself to only three hours work each morning, so I can still enjoy the rest of my days.
LAURA: That's a good way to make sure you create time for yourself.
If I really have to do work at home, I pick one day of the weekend to get it out of the way. Then I can use the rest of the time to spend with my family and friends.
Plan to study and socialise
HAYLEY: I've booked lunch for after my three-hour slot to make absolutely sure I don't spend any longer than planned working!
LAURA: I endeavour to do what we tell pupils to do and try my best to stick to a study plan. It's also a good idea to sometimes take work elsewhere, such as a coffee shop. That way I'll still get some fresh air and exercise but also get done what is necessary.
HAYLEY: It definitely makes it more fun when you and I meet up to do our articles, or when we work on resources with our other colleagues.
LAURA: It's interesting that even when we are out socially our discussions always come back to sharing ideas and the different things we are doing in our schools.
HAYLEY: Yeah, it's funny how a lunch date can turn into a CPD session.
I tend to find that I spend a lot of my short holidays getting all my work completed, but when it gets to summer, I completely shut off for the first few weeks. Mind you, I don't think this is a good thing. It's really the shorter breaks that I should be trying to keep completely work free.
Take time to recharge
LAURA: I believe that by the time we get to the summer holidays we need the first few weeks to recharge, but I think finding the balance between relaxing and working during holidays is really difficult.
HAYLEY: Sometimes, if I know I have a long journey to my holiday destination, rather than dedicating separate time to work I will make use of the extra time, instead of just sitting on my phone. Especially if it's a long flight. It means I'll still have some of my book left to read by the pool.
Top tips to ring-fence free time
Allow yourself to do absolutely nothing. You have worked hard for your holidays and deserve the rest time.
Create a work plan for holidays and don't overestimate what you can achieve in the work periods.
Relax. Taking time to do so is just as important as making sure all your tasks and planning are completed.
Meet up with teacher friends – turn work into a more social occasion.
Limit working time to no more than one day of each holiday week.
LAURA: We're taking the caravan to France and I will definitely be using some of the travel time for work, but not too much. I feel that the longer you have been teaching, and the longer you've been in school, the easier it becomes to adjust and separate work time and relaxing time.
You also have less new development work to do because you are comfortable with your resources and only minor alterations are needed year on year with course changes.
HAYLEY: I'm definitely finding that I'm having to work less over the holidays the longer I've been teaching. All the routine tasks become more manageable once you get used to how you do them, and then you can spend extra time making new resources, creating revision games and so on.
Make an achievable to-do list
LAURA: I also think that having a realistic idea of how much you are going to get done puts less pressure on you to work.
HAYLEY: Definitely. It all comes back to my favourite thing … a to-do list!
LAURA: Make a note of a few main things you really need to do and only take home what you require to complete those. You'll feel as if you've accomplished much more if you don't have a huge pile of things left on your list that you 'could do'.
Ready for more?
This is the final dialogue between Hayley and Laura but you can …
Read previous instalments on the Education in Chemistry website: rsc.li/3BNXllk
Find out how to make the most of relaxation in Hurrah! It's the holidays: rsc.li/45E6Gdf
Discover more tips and support in the Teacher well-being hub: rsc.li/3IPJZJi
Early career conversations
1

2

Currently reading

Holiday planning

3

4

5

6

7