Daniel Johnson finds out about the chemistry behind aerospace engineering and life as a 'test tube pilot'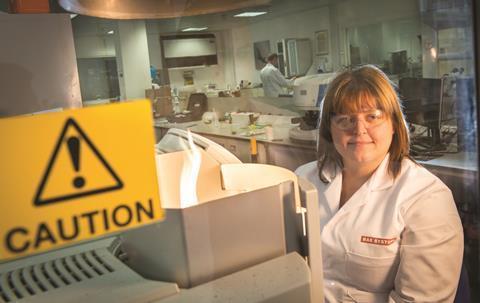 A passion for chemistry can lead you in many different directions, and Nicola Dinsdale is living proof of this. Always someone who enjoyed the practical challenges of the lab, Nicola studied at the University of Leicester before going on to do a PhD at the University of Bristol. This led her not to pharmaceuticals, or a research career as you might expect, but to a job in aerospace engineering. Nicola explains: 'I hadn't really given aerospace any thought to be honest. I thought it might be more pure engineering than chemistry.'
Now, aged just 32, Nicola is nearing the top of the tree at BAE Systems, a multinational defence, security and aerospace company. As a senior materials engineer in the company's Military Air and Information sector, she is responsible for the chemistry that drives the production and maintenance of their fleet of fighter jets. 'There are two aspects really, keeping production going and future development,' explains Nicola. She is part of a team who provide services to the company's whole military aerospace division. 'It could be flight support, in-service support, people who are actually building the aircraft, or it could be the final aircraft and a customer coming back to us.'
Everyday checking
Like every job, working at BAE has an element of routine, but on a grander scale. Every day the company's chemists must maintain chemical baths containing up to 28,000 litres of metal treatment chemicals, which are used to process all the metal parts of the aircraft. Other regular tests include analysing the carbon fibre structures of the Eurofighter Typhoon, BAE's fighter jet, to make sure they have been cured correctly and have the right components. Products are broken down to their base level for analysis, while infrared microscopes help reveal the information Nicola and her team need to ensure that suppliers have the right processes and quality to meet BAE's requirements. 'There is a forensic aspect to it,' she adds. 'It's not quite CSI, but we do deal with some very small samples sometimes, which can be very challenging.'
Future developments
Looking to the future, Nicola and her team have a key role to play in BAE's response to the REACH (registration, evaluation, authorisation and restriction of chemicals) legislation being introduced by the EU. The use of chemicals such as chromates, which are present in paints, sealants, adhesives and resins, is threatened under the new regulations. Some companies have even decided that the additional expense in finding new products is making manufacturing no longer worthwhile.
'The whole of the European industry is looking at what we do about chromates,' admits Nicola, who is involved in looking at alternative chemicals and special sealants that will do the job. The changes will certainly be a firm test of the team's ability to innovate.
For Nicola, all these challenges add up to the perfect combination. 'I like to get my hands dirty [with lab work] but I like the report side of things as well, so it's a good mixture of the two. I have the chance to think for myself, with backup and help if I need to ask. I'm not being told what to do all the time.' So it's no surprise to Nicola that a large number of apprentices who have undertaken a placement in materials are interested in developing a career within materials engineering. 'I have been here about five years now and I'm still learning a lot. You are seeing something new every week and it gives you a broad experience in all the different aspects of the manufacturing of the aircraft.' Like Nicola, they want to be chemists making a difference in aerospace: test tube pilots, if you will.
Pathway to success
August 2008–present, Senior materials engineer, BAE Systems, Samlesbury, UK
September 2003–2007, PhD in chemistry, University of Bristol, UK
October 1999–July 2003, MChem, University of Leicester, UK
1997–1999, A-levels in chemistry, biology, physics, general studies and AS-level in history at Blackburn College, UK
Did you know?
The Eurofighter Typhoon is produced by four different countries – Germany, Italy, Spain and the UK. Each country has its own final assembly lines and each provide elements of the complete aircraft.
Originially published in The Mole