Because they're important for learning, life and careers
Skills are vital for the long-term success of students. They are transferable beyond school to further or higher education and employment. Qualifications and grades will get you the job interview, but skills will get you the job and help you to progress. I teach skills in both areas of my job, in school and in higher education. I am passionate about skills development in students.
Communication skills are often cited as particularly important to both further education and employment. I teach science writing in my role as a lecturer in higher education. There is no point doing the science if we're not able to effectively communicate it.
There is the misconception that skills are caught rather than taught
There is the misconception that skills are caught rather than taught – that students will pick them up as they progress through a course, other curriculum subjects and extra-curricular activities. It might be tempting to think undergraduates don't need a recap of basics like grammar and that they should be able to do a coursework assignment without much instruction. But learning is messy and learning skills perhaps even messier. Expectations of competency change quickly as students progress through the stages of education.
Furthermore, by neglecting skills we may be baking in disadvantage. Not all our students are able to access activities and experiences outside of lessons that enrich their skills. Regardless of background, improving their skills can inspire students to take science further as they're more able to appreciate the wondrous complexity of our subject.
Skills and assessment
Developing skills is a long-term goal. It doesn't always fit well into assessment models with hurdles at fixed points. We all want our students to get good grades, whatever that means for them. It can be difficult to convince students that skills matter if they're surrounded with messages that content is king.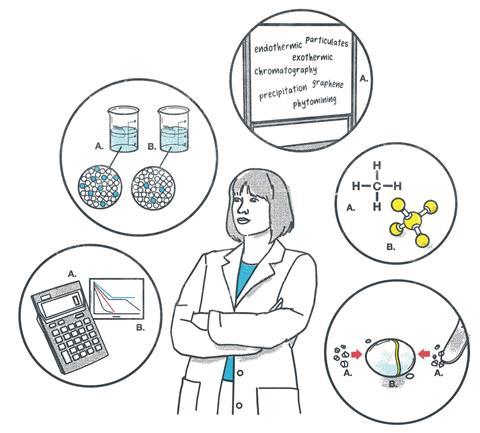 We need to be just as passionate about skills as we are about subject content. Teacher enthusiasm can carry a class a long way. Remember, it is often many years after leaving school that students actually begin to recognise the impact of taught sessions on skills.
They are part of the curriculum and assessment. Any teacher with a decade or more of experience has seen the balance between these two points of focus tip more than once. Sometimes skills sit there in the supplements and appendices of published syllabuses, while the spotlight is on subject content. In other curriculums, they are front and centre in the syllabus, suggesting they are a major focus.
However, the syllabus is only the intended curriculum. The assessed curriculum might suggest that skills are not that important, meaning that they are neglected in favour of subject content. A brief look across the curriculums of England and Scotland reveals a broad outline of the skills we want learners to dvelop:
use of technology, equipment and materials, safely, in practical scientific activities
planning skills
inquiry and investigative skills
skills in independent learning
thinking skills, and
problem-solving skills.
However, the syllabus is only the intended curriculum. The assessed curriculum might suggest that skills are not that important, meaning that they are neglected in favour of subject content.

This article is part of our Teaching science skills series, bringing together strategies and classroom activities to help your learners develop essential scientific skills, from literacy to risk assessment and more.
Skills and knowledge – the same but different?
Skills cannot be divorced from knowledge. They are both part of a cycle of learning that ultimately leads to the understanding of science. It would be impossible to develop skills in discussing the ethics of science in society without knowing the details of the science itself in addition to its social context. Similarly, you can't develop planning skills if you have no knowledge of the chemical reactions or physical processes being studied.
Ideally, this broad understanding of science would have some measurable benefit for the students. For example, time spent improving maths skills should lead to success in the next chemistry test if there are questions in areas such as calculations. But then again, when you are teaching the maths skills, are you just teaching maths knowledge? It's easy to see how we can get ourselves in a tangle with this.
It isn't just glassware and Bunsen burners
The chemistry community generally believes that chemistry is a practical subject and practical skills are an important part of an education in chemistry. In most education systems, there is no direct link between hands-on practical skills and success in school-level qualifications. For that reason, practical skills may be underrepresented in the taught curriculum.
However, these skills are not just about the manipulation of glassware and using a Bunsen burner. They capture variables and the scientific process, risk assessment, planning and evaluation. These aspects of practical skills don't need well-equipped labs and lots of fancy equipment. They're more about a way of thinking than the actual practical details. But they may also be lost due to the time pressure of practical sessions. They may be better taught explicitly either as part of practical lessons or in work surrounding that.