Teachers need to cater for the needs of any pupils with special educational needs or disability. An updated guide from CLEAPSS contains helpful advice on the methods, equipment and health and safety rules you should consider.
Inclusive teaching is good teaching for all pupils regardless of their 'label'. Planning teaching for pupils with special educational needs and disabilities (SEND) should be part of the planning done for all pupils, rather than as an add on. It doesn't need to be time-consuming, but a range of opportunities for pupils to demonstrate what they know and can do is important. The effectiveness of this should be judged primarily by the quality of students' learning and their progress, regardless of label.
In the past ten years there has been a raft of legislation and papers all with a clear focus on overcoming barriers to participation and learning. The message to schools is that all teaching staff are responsible for the provision for, and progress of, young people with SEND. This has marked a shift away from the 'medical model' of disability, where often the focus has been on the impairment, to one of inclusion which focuses on removing barriers to learning and raising expectations and achievement.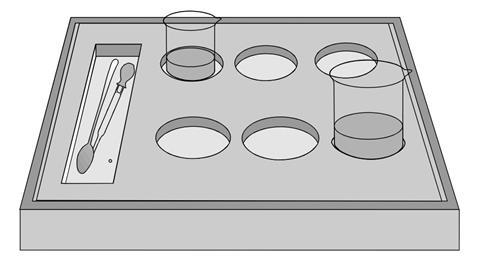 Once a young person's special educational needs have been identified there are many sources of help and advice available to both the young person and to those who are involved in their education. It is also important to find out the views and perceptions of the young people themselves. They will tell you their strengths as learners, what they find difficult as well as strategies they may have learned to overcome barriers.
For some categories of need, simple steps are often sufficient to better include, or reduce safety risks for, young people in chemistry lessons. For example, young people with asthma may be hypersensitive to chemicals. To reduce the risk of their exposure:
use a fume cupboard for activities likely to evolve gases or smoke
grow fungal cultures in Petri dishes (or, if larger samples are envisaged, in plastic bags) in order to contain the spores that are produced
carry out all dust-raising activities (such as cleaning out animal cages) when it will have the least effect on the room where the pupil works
advise asthmatics to use their inhalers before they start any studies of the effects of exercise on the body
avoid activities such as exercise that bring children into contact with their sensitisers, such as cold air, smoke, dust, pollen or fungal spores
School records should indicate any pupils with such conditions and the obvious precautions that should be in place. Check these records carefully and try to obtain the fullest and most detailed information concerning the nature of the allergenic substances. Bear in mind that 'smoke', 'nuts' or 'bee stings' are very broad categories that can either lead to an unnecessary restriction in the work that is undertaken, or to an unjustified feeling of confidence.
This is an extract from Science for Secondary-aged Pupils with Special Educational Needs and/or Disability (SEND) by CLEAPSS. For more practical guidance and information like this on more different categories of needs, consult the full guide [pdf, £/free to CLEAPSS members]. The appendix includes a resource for planning inclusive science lessons.