Lewis is researching cutting edge ways to improve the treatment of diseases of the colon
Hi, I'm Lewis and I'm a bionanotechnology PhD student at the University of Strathclyde.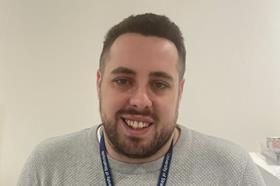 What does a Bionanotechnology PhD student at the University of Strathclyde do?
I carry out research into solid lipid nanoparticles (SLNs) and how they could be used to help treat diseases of the colon. These greasy, fat particles are 100,000 times smaller than a human hair and have the potential to improve treatments.
I'm going to be investigating whether SLNs can offer an easier way to take the medicines. Instead of an intravenous injection, these nanoparticles could mean a patient can swallow a tablet or capsule through their mouth. And the medicine would be absorbed and used by the body just as well.
My research is also looking at how SLNs can target and deliver drugs to the colon.
How is your work making a difference?
My research could change the lives of patients who suffer from diseases of the colon.
It seeks to increase the effectiveness of oral medications (taken by mouth). This opens doors for many drugs that are currently only available as intravenous injections to be marketed as simple oral doses such as tablets or capsules. This could also relieve the strain on the staff and services that surround the current treatments.
Salary range: For a PhD student, the minimum stipend is set by the UKRI and changes every year. For this year, 2022/23 the minimum stipend is £17,668.
Minimum qualifications: Typically, the minimum entry requirements for a PhD are a BSc (Hons) degree at a minimum grade of 2.1.
How did you find your job?
I applied to a number of PhD positions through FindAPhD.
What is your typical day like?
As I'm in the early stages of my PhD, my day consists mostly of reviewing the current literature and planning for beginning my laboratory work. Once in the lab, my work will begin with working towards formulating solid lipid nanoparticles that have an ability to hold specific drug molecules within them.
What do you love about your job?
As a PhD is a novel piece of work, I'll be working with a small part of science that no one else has investigated, that's very exciting!
What skills do you need for your job?
For research in chemistry, it is key that you can work safely and confidently in a lab environment. It is also important that you can deal with any data and then communicate the results effectively.
Why did you choose chemistry?
From taking chemistry in secondary school, my eyes were opened to the length and breadth of the field. There was always something else to learn or another avenue to investigate. This excitement of the subject has carried through with me into college, undergraduate and now postgraduate research.
How did your qualification help you get your job?
Studying for a degree in chemistry gave me an understanding of the workings of the field as a whole. This breadth of knowledge also gave me an idea of which particular part of chemistry I was most interested in for pursuing into a PhD.
What barriers did you encounter on your journey into your role?
When I left secondary school, I opted not to go straight into university, I went and worked for a number of years before returning. However, when I was aiming to go back, I didn't have the grades for university entry, so I opted to complete an HNC Applied Science to achieve the entry requirements. The year at college gave me an overview of a number of subjects such as chemistry, microbiology, cell biology and genetics. This was an excellent way to ensure I had the correct entry requirements while also broadening my knowledge of the sciences.
What tips or advice would you have for someone looking to get into a similar role, or considering a career in chemistry?
Chemistry isn't well known for being the easiest subject but it is an immensely enjoyable one – coming into the field with a passion to learn will go a long way.
What do you see yourself doing in the future?
Ideally, I'd like to stay in academia. My hope is that I'll complete my PhD before going on to a postdoc position and then into a more permanent academic role.
Want to know more?
Explore your study options, talk to a career adviser and look into gaining work experience.
Delve into different higher education study options.
For anyone interested in PhD research, it's important to speak to others who have already been through a PhD to try and gain an idea of what the process is like. Also, people who are currently studying for a PhD can give an overview of what life is like doing a PhD right now. Universities also hold postgraduate open days a couple of times a year and these can give you an idea of what doing research is like at that particular institution.
Lewis Dymock AMRSC, PhD student at the University of Strathclyde.
Published December 2022