Erin helps turn new medicines into finished products so that they can be mass-produced for patients. She was also the Royal Society of Chemistry's 2021 Chemical Sciences Apprentice of the Year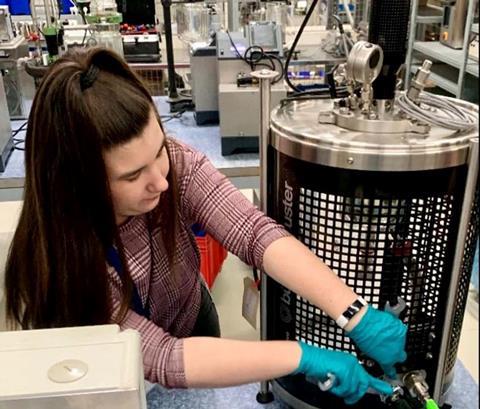 Erin joined GlaxoSmithKline (GSK) after completing her A-levels. She is currently in the second year of her apprenticeship within the Chemical Development (ChemDev) department, studying for a Foundation Degree (FdSc) in Applied Chemical Sciences at the University of Kent. Whilst studying, Erin gains experience from her mentors in the field of chemical development.
After her A-levels, Erin chose a chemistry apprenticeship because of her passion for organic chemistry and her interest in pharmaceutical chemistry, which started after a project on ways to treat cancer.
What Erin does
As a process chemist, Erin finds ways to produce new medicines in large quantities. She identifies impurities and solves problems that might not be visible when small quantities of a new medicine are first produced in the lab. Working with mentors and colleagues, she improves the way the reaction is designed and the quality of the medicine. These solutions are then applied in manufacturing plants to produce the final medicine that patients are prescribed.
How did you first become interested in chemistry?
I was initially drawn to chemistry by the practical aspect and hands-on learning approach I was able to take within the classroom. This is what influenced me to undertake an apprenticeship instead of a more traditional academic route since it would enable me to gain much more practical experience.
Salary range and qualifications required
*The website glassdoor can be helpful for finding annual higher apprentice salaries across the UK.
What has been a highlight for you?
The highlight of my career so far was to achieve European approval for Rukobia, a medicine used to treat Human Immunodeficiency Virus (HIV). It was amazing to know that my work contributed to the approval of a first-in-class treatment to help adults with HIV infections that are resistant to antiretroviral therapies, which are alternative medicines that stop the virus replicating inside the body.
What has been a challenge for you?
Starting my apprenticeship was certainly a steep learning curve, having come straight from school into an environment where I am surrounded by such highly qualified and successful individuals. So, I've definitely had to learn to be more confident in myself and my abilities along with recognising how the different learning experiences I have had can bring a different skill set and perspective to the table.
What motivates you?
I'm naturally curious, so I enjoy having the freedom to explore and develop concepts in conjunction with people who always encourage me to continue to contribute my ideas regardless of the outcome. Knowing I have the trust and backing of my team when exploring new avenues makes a real difference when investigating new approaches to challenges we face.
Why do you think teamwork is important in science?
Collaboration is a key part of success. In my experience, a series of diverse minds give many more creative and effective solutions than working in an isolated bubble. Equally, this gives everyone an opportunity to learn from each other and to act as a sounding board for ideas that may not otherwise ever be heard or explored.
Successful organisations don't want everyone to think with the same mindset, they want a diverse team, which can be found in an inclusive matrix where everyone's voices and views matter.
What advice would you give to a young person considering a career in chemistry?
I'd give them the same advice that I've been given:
any work experience is good experience
learn as much as you can from those who have gone before you
observation is a key part of learning
don't be afraid of making mistakes, you can learn a lot from failed reactions
pass on what you've learnt
How are the chemical sciences making the world a better place?
Behind every patient there is always a network of family and friends who can take comfort in the knowledge that improved treatment is continually being developed through our shared knowledge of the sciences.
I'm fortunate enough to work within an area where, every day, I see these novel molecules being developed for use as new medicines.
Want to find out more about becoming an apprentice or working in pharmaceuticals?
First published June 2021