Kay teaches and oversees the work that goes on in a secondary school chemistry department
What is a head of chemistry?
As head of chemistry, I am responsible for overseeing the teaching that goes on within the chemistry department, preparing resources for teaching and learning and ordering the equipment and chemicals that will be needed for lessons. I also help teachers whose specialist subjects are not chemistry, as well as student teachers on placement. Another part of my role is analysing test scores and using this to highlight areas that need improvement and identify areas of good practice. Raising the profile of the chemistry department within the school is also important, and I do this by arranging visitors to come to school and trips for pupils.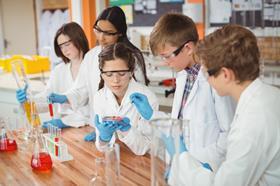 What do you do in your job?
I teach mainly chemistry and a few general science classes. I plan the lessons in advance and organise any practical equipment that I may need, plus each week there will also be tests to conduct so that I can monitor the progress of my students. Throughout the year I will organise educational trips or visits to the school. I also have reports on examinations to write and controlled assessments for my exam classes.
I am also a form tutor and responsible for the pastoral and academic needs of those 30 students, so some time may be spent trying to help a pupil from my form class during the week. I work in a large school with students of all abilities and all backgrounds aged between 11 and 18. There are some occasions when I will attend a course or go on an education visit. As a teacher it's important to me that my students enjoy chemistry and science, and have the chance to be involved in practical experiments. I use a variety of teaching methods to improve their understanding and build their enthusiasm. I am also in charge of science club. We meet weekly and have approximately 25 students aged 11–13 attending to try fun and exciting experiments that are not normally covered in science classes.
What do you enjoy most about your job?
Working in a secondary school is exciting – no two days are ever the same. Sometimes things happen that take you by surprise and things don't always go to plan, and that is what makes it interesting. I get to see young people grow in confidence and knowledge every day and being a part of that is great.
What attracted you to becoming a teacher?
After I left university I worked in an office for a year which was not for me – I did the same things every day. Teaching is not like that at all. I know the influence that teachers had on my life, inspiring and encouraging me to reach my potential, and I hope that I can do a little bit of that too.
How did you get into your job?
After doing A-levels in biology, chemistry and maths I completed a BSc (Hons) in biochemistry and then a PGCE in chemistry with science. I have been teaching for nine years and I have recently completed a Masters in education.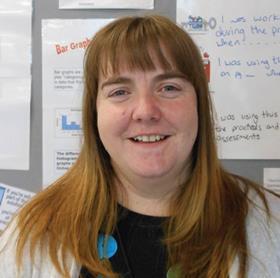 What are the opportunities for career progression?
The good thing about having a science qualification is that your future career path can be whatever you want it to be. Examples of paths I could take would be head of science, senior teacher, deputy principal, principal, university lecturer, examinations officer, or chief examiner. Other jobs could include working as an educational officer at a science centre, planetarium or museum, co-ordinating school visits and events or teaching abroad. Teaching equips you with transferable skills many employers seek – the possibilities are endless.
What advice would you give for people wishing to enter your career area?
Speak to people you know who are teachers, get experience and practice working with young people to see if it is something you could do. Ask your local school if you could visit/speak to one of their teachers or possibly arrange to observe a lesson or shadow a teacher for a day.
First published 2014