Olivia uses analytical techniques to ensure that food products meet legislative requirements for consumers
Hi, I'm Olivia (she/her) and I work as a senior laboratory technician at Glasgow Scientific Services (GSS) – part of Glasgow City Council.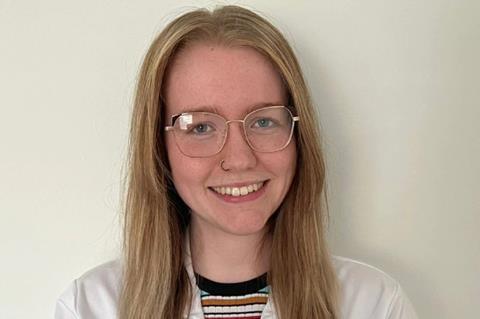 What does a senior laboratory technician at GSS do?
GSS is an official control laboratory for food products and feeds. They work to ensure the health and safety of consumers. Their lab is so varied – there are many different scientists with different specialisms. I work within the food department so I do a lot of wet chemistry labwork. My analysis checks product authenticity such as nutrition declarations, meat content of meat products, presence of allergens, freshness of products and many more things. It is quite varied!
How does your job affect the world around us?
My analysis ensures that food products meet legislative requirements for consumers. For example, I ensure that food products contain what they claim to contain as well as being safe to eat for people with allergies, etc.
Salary range and qualifications required
Salary range: Once qualified, the bands are: Technician: £21,665–£23,575. Senior technician: £24,636–£28,495. Analyst: £29,749–£34,958. Team leader: £36,598–£43,637. Assistant group manager: £44,605–£51,781. Group manager: £55,794–£64,688.
Minimum qualifications: For this Modern Apprenticeship (MA), the requirements are two Highers at Grade C. For the technician and senior technician posts, an HNC is required.
What is your typical day like?
There is a lot of variation in the tasks I do from day to day. Typically, I will come into work and gather sample documents with information on what the client has requested, I then will gather my samples and begin sample preparation which is normally homogenising them (blending them) and then I will begin analysis on the representative sample.
The most common analysis I do is nutrition values, I start with fat and moisture determination that's finding out how much fat and water is in the sample. I use gravimetric and drying methods for that. I then do some more hands on methods such as protein content determination which is done by digestion (using concentrated acid and peroxides), distillation, and titration. The method I carry out the most is the determination of a protein in the body called collagen which is a colorimetric method that I read using a UV/Vis spectrophotometer.
After all my analysis is done, I take the data I have collected and input it into our laboratory information system which helps calculate my values. I then check over the results and make sure they meet their legislative requirements. If the samples do not reach requirements, they are rescheduled for repeat analysis. If the sample continues to fail, the result is reported to Environmental Health, who speak to the manufacturers."
What inspired you to work in chemical science?
My first dream was to be a pharmacist. My mum was quite ill when I was in my first year at secondary school – I wanted to go into an industry where I could prevent such illnesses. However, further along school, I learned about other career paths. At the time, I wasn't sure what route I wanted to follow as there are so many. I just found out about this path by chance and I love it. I am motivated by knowing that, in science, it is constantly evolving and there is always something new to learn and, one day, you could be part of a new discovery!
How did you find your job?
I found my MA on Glasgow City Council's apprenticeship website – Glasgow Guarantee – after a science MA came to visit my class in school. I was curious and signed up. My technician jobs were on myjobscotland.
What barriers did you encounter on your journey into your role?
Initially, when I left school, they assumed I wanted to go to university. I was actually very nervous to go and I looked into alternative routes on my own instead. I was only 17 and I felt that I had no support and didn't understand if I was making the right decision. I am the first in my family to go on to further and higher education so the lack of support and advice, as well as the lack of awareness of other routes, was a bit difficult at first.
What do you love about your job?
I love the variation in the work I do. I am not always stuck in one area doing the same type of analysis. It feels as though I will never run out of things to learn here. I am able to learn and carry out not only wet chemistry techniques but also instrumentation techniques.
I also love working with the council and encouraging the young people of Glasgow to consider different pathways into further and higher education.
What skills do you need for your job?
A good level of manual dexterity and concentration is essential. It is easy to make mistakes and sometimes it is impossible to avoid but, with good lab practice and a good level of concentration, you can keep yourself on track and safe in the lab. In GSS' lab, as a technician, you produce your own data and you will monitor it to an extent so data handling is also an essential part of the job. You also need to recognise legislative requirements and when samples may need [repeat experiments] due to quality control failures or the values you obtain just don't seem right for the product's requirement.
You are left to work on your own tasks when you are fully trained and competent so a level of troubleshooting is essential – there isn't always going to be someone free to fix your problems for you. This means communication skills are essential – you will need to communicate any issues or findings as well as updating colleagues on any shared work. Being decisive and confident in your own abilities helps too.
How did your qualification help you get your job?
The SVQ I gained from the MA was invaluable and it is what put me ahead of the other candidates when I applied for the technician and senior technician positions. I had industry experience and real-life examples, as well as a broad range of technical skills I had gained over my four-year MA course. Analytical skills are important in lab work but the understanding of quality control systems and accreditation status for Public Analyst labs that I gained during my MA was vital in helping me gain my role, which is something I haven't really learned about at university.
What advice would you give to a young person considering a career in your field?
Don't limit yourself to the traditional route of university immediately after school. I feel that chemistry requires a lot of experience and some confidence that you may not necessarily gain if you start studying at university immediately. Be prepared to make mistakes – and lots of them. There is also no such thing as a silly question. Learn about the importance of networking – if you can attend any STEM-related events, you will find a lot of lovely, enthusiastic people who are worth keeping in your network.
What do you see yourself doing in the future?
I am in my final year of university but I actually really enjoy working in GSS' lab and so I am considering staying here, progressing and studying towards becoming a public analyst by doing an MChemA as I really enjoy the idea of being involved in helping protect consumers and the public. I am also hoping to successfully complete training here at GSS so I can be a scientific advisor for Scottish Fire and Rescue Service.
Olivia Bennett, senior laboratory technician at Glasgow Scientific Services (GSS).
Published September 2022