Hi, I'm Saba (she/her) and I work as a principal air quality consultant at Royal HaskoningDHV, an international engineering consultancy firm.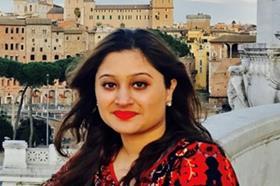 What does a principal air quality consultant do?
As part of a team, I provide air quality assessments to clients to support their planning applications for large-scale industry, transport and wind farm projects in the UK, Europe and Middle East. Planning applications require an air quality assessment if they are likely to produce air pollutant emissions. This is because air pollutants affect our health and ecosystems.
An air quality assessment involves establishing the baseline air quality and producing a follow-up technical report to evaluate the impact of the proposed development on local air quality. I use computer modelling and monitoring as part of the process.
How does your work affect the world around us?
Poor air quality is a growing global issue, impacting the health and wellbeing of billions of people internationally. As an air quality consultant, I minimise emissions and exposure to air pollution in built-up, urban areas where people live, work and socialise on a daily basis. I advise clients on how to reduce air pollution from their construction activities – for example, residential and commercial developments, roads schemes and industrial operations.
Salary range: It is very competitive and depends on your experience, qualification and whether you have a chartership or not. Starting salaries as a graduate these days are around £30k but it varies depending on the size of the company you join.
Minimum qualifications: Undergraduate degree in environmental sciences.
What is your typical day like?
I help my team carry out air quality assessments for our clients' proposed developments which they can then submit to the Government as part of their planning application. This involves sharing the assessment methods with the relevant local council to get their approval, carrying out the air quality assessment and delivering the findings to the client. It is a desk-based job and a typical day will involve project calls with clients, doing calculations in Excel, running dispersion models, writing technical reports and then presenting the work to the councils and clients.
What do you like most about your job?
Every project is different and it comes with its own set of challenges and that keeps me motivated.
My job is full of interesting opportunities. I assessed where the hotspots are in terms of air pollutants on the runway at Gatwick Airport, which involved chasing flights in a Jeep on the runaway to study the flights' landing and taking-off movements.
What skills do you need for your job?
It's essential to know how to use various atmospheric dispersion models in our work. An atmospheric dispersion model is a set of mathematical equations that relates the release of air pollutants from emission sources to the corresponding concentration of pollutants in the ambient air. These models are tools used to determine if the emissions from a source can meet a specific ambient air standard.
Alongside that the core skills are:
project management
time management
verbal and written communication
numeracy skills
analytical skills
technical skills such as data analysis and dispersion modelling
What inspired you to work in chemical science?
I loved doing practical experiments with chemicals during GCSEs and A-levels which led me to choose a BSc in chemistry at Imperial College London. One of the highlights from my time at the labs was being amazed at how I could follow a step-by-step recipe to synthesise paracetamol from scratch by using interesting techniques such as fractional distillation.
After my BSc chemistry, I got a scholarship for MRes (master's in research) in environmental chemistry and then managed to get a funded PhD in atmospheric chemistry which qualified me to apply for roles working as an air quality consultant. I am kept motivated by my work in the field of air quality and the reduction of air pollution – my chemistry knowledge gives me the required skills to tackle the issue and work on international projects. Each time, there is more to learn.
What advice would you give to a young person considering a career in your field?
The topic of climate change is very hot these days and, as an air quality consultant, you can play a role in ensuring that industries operate within the required environmental guidelines. If you like chemistry, computational modelling and numbers, then this may be an interesting line of work for you, where every project of yours will make a difference to this planet.
Want to know more?
Saba Manzoor, principal air quality consultant at Royal HaskoningDHV.
Published March 2023