Ian ensures radioactive waste is handled safely and applies waste management techniques to technology that reduces risks of climate change
What is a radioactive waste consultant?
I provide technical advice during the design, operation and decommissioning of nuclear facilities and I'm often responsible for the production of any environmental and waste management documentation required. My work is mainly in the field of waste management, which covers the safe treatment, storage and disposal of radioactive materials arising from all sources. My role also covers a wider range of technical areas, from translating and reviewing scientific documents to risk management.
Minimum qualification for role: A starting point would be a degree, with a PhD in a relevant area being an advantage.
Starting salary band:£17,040 to £30,300 (dependent on role and experience).
What do you do in your job?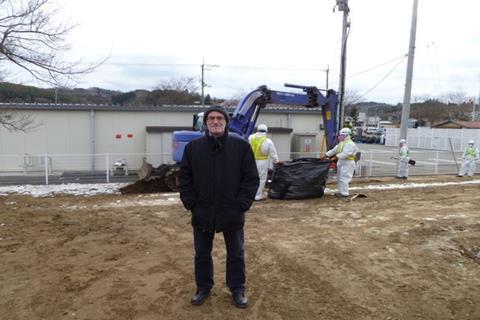 I don't have a typical day. Although I have been homeworking since COVID lockdowns, I would normally spend long periods of time in Japan or with other international clients. The work is very much related to what the client needs. For example, after the Fukushima Daiichi nuclear plant disaster in Japan, I was involved in planning both the removal of radioactive waste from affected areas and the decommissioning of the damaged reactors. As part of this work, we translated Japanese documents to provide summaries of lessons learnt in English.
What do you enjoy most about your job?
The technical diversity and ability to transfer knowledge between different national programmes. In the early days, a lot of the transfer was from Europe to the Far East, but now much goes in the opposite direction. Transferring technical knowledge to younger generations using advanced engineering tools and traditional mentoring is a responsibility and fun.
How did you get into your job?
My first job was with the Institute of Geological Sciences (now known as the British Geological Survey). This job was directly based on my PhD radiochemistry experience. Following this, I was actively recruited to a couple of jobs in Switzerland, based on personal contacts and my publication record. After moving up into management level, with special responsibility for international projects, I set up my own consultancy so that I could focus more on technical support work.
How is your job helping to fix the future?
We support the safe use of nuclear power and have applied our waste management techniques to technology that reduces risks of climate change. For example, we've applied these to carbon capture and storage and assessment of impacts of rising sea levels. Recently, we have also examined the use of risk management tools to support top-level energy policy decisions.
What advice would you have for a young person wishing to enter your career area?
A sound basis in a wide subject like chemistry provides a good start for diversifying your interests. In the UK, a possible entry route into this field is via Radioactive Waste Management who are currently expanding quite rapidly. The Royal Society of Chemistry Radiochemistry Group is also useful, providing news on job openings.
For the type of work that I do, a good starting point would be a degree, with a PhD in a relevant area being an advantage. As projects are often at a very high technical level, these can also be used as a basis for a PhD. My first laboratory technician took this route and now has her own consultancy (also recently awarded an MBE for 'services to radioactive waste management').
What are your plans for the future?
Although I am past the age for retirement, I cannot see myself stopping work as long as I am fit to do so. I hope, however, to have a bit more time for my hobbies – teaching and writing science fiction.
First published June 2021