Océane works at a sustainable packaging startup that uses seaweed instead of plastic for drinks, sauces and other items
Hi, I'm Océane and I work at NotPla, a sustainable packaging startup that uses seaweed instead of plastic.
What does an R&D chemist do?
I research ways to tackle single-use plastic with a biodegradable alternative at a startup company called NotPla. I find ways to make the plastic-alternative meet the different commercial demands of our clients by improving the properties of the thin layer (known as a film) that holds and protect the contents inside. For example I might work on a film which can hold liquid but also dissolve when it's put into a container so that it can be used as refill packaging. Find out more here.
How is your job helping to fix the future?
Single-use plastic is a real problem for our oceans and earth. By creating an innovative, biodegradable replacement for single-use plastic, I am helping to tackle the issue.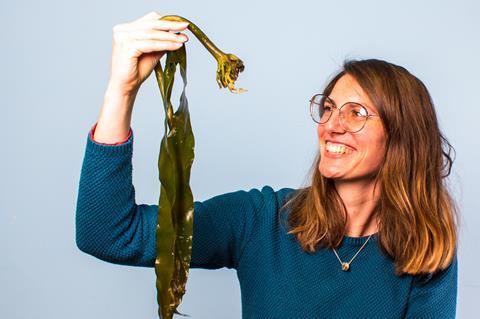 We use seaweed to make the packaging which is quick to grow so it is sustainable. It also biodegrades back into the sea. We use the same manufacturing process as plastic from fossil fuels so that way we can reuse the machinery and manufacturing facilities and therefore remove the need to make new machines. We know we cannot remove plastic altogether but we can reduce it.
There are several projects going on at NotPla as well as the one I work on such as the Ooho project which uses packaging made from a material combining seaweed and plants. It can hold drinks and sauces such as water, juice, alcohol or condiments. It is 100% edible and it can degrade in 4–6 weeks, just like a piece of fruit.
We also have the coating to go on cardboard food packaging to make it waterproof. It is made from seaweed and is an alternative to plastic. It's compostable and vegan.
What is your typical day like?
My day usually involves making films. I mix different ingredients to make a solution or paste. I put that through the machinery to make the film, setting up the necessary processes and parameters. After making the film, I test the samples. For example, I find out how much liquid and gas can get through the films (permeability), whether they dissolve and the seal-strength of the film as it needs to hold all its contents. There are a lot of stability tests to find which film is best. When I have the results, I analyse the data and summarise it in a report.
A day may also involve meetings with other chemists to brainstorm ideas and knowledge across the projects. For example, we may be having the same issues and can help one another find a solution. I also meet with commercial and design team members to discuss priorities and what we need to focus on, what the commercial needs are and what we need to solve in order to manufacture larger batches.
What do you love about your job?
I like the fact it's really innovative and creative. Because it's a startup, you learn a lot on your own and how to work on your own. I like searching for new leads, being resourceful and finding solutions as quickly as possible. I started in a really small team which felt like a family. I've built really strong relationships with my colleagues. It's also great to work closely with different teams and across disciplines such as commercial, design and engineering.
I really care about the environment and sometimes I feel I don't do enough in my everyday life to address this issue so tackling it head-on in my job is really important to me.
How did you get into your job?
I did an internship, funded by the Royal Society of Chemistry, while I was at university and returned as an employee. I found the internship through speaking with previous students who had been on an internship.
How did your qualifications help you get your job?
At university, I learnt about the engineering of polymers which helped me get into this field. I also learnt about how plastic is manufactured, the properties of packaging, plus the testing and the mechanical properties of plastic. I had some exposure to biopolymers eg, how to make bioplastic. This knowledge continues to help me in all sorts of ways including how to set up an experiment.
Salary range and qualifications required
Minimum qualification for role: Master's degree which contains teaching of biopolymers or hydrocolloids (hydrophilic molecules that influence texture). Ideally a PhD, although it's not necessary – it would depend on a person's experience.
Starting salary band: The UK national average, annual salary for a R&D chemist is £27,658 (Glassdoor).
What skills are needed for your role?
You need to be innovative, creative, resourceful, a good problem solver and organised. You'll also need skills such as team working, good communication (especially in a startup where you may be explaining to non-chemists or even scientists), data handling, plus technical skills in biopolymers – eg, how to test film-packaging.
What advice would you have for a young person wishing to enter your career area?
Get as much experience as possible – work experience. If you go to university, get internships. Try the different fields as much as possible. Chemistry is broad; you can go into so many different areas: organic, analytical, physical … You have to work out what you like and dislike. You need to question whether you like academic research or industry. If you like industry, you need to work out whether you'd prefer to work in a big company or a startup where you will need to be more resourceful and multi-task; in a big company, it will be more structured. Also, build your network – it's really important. The more contacts you have, the easier it is to find help with questions and opportunities.
First published November 2021