We see a lot of problems evolving around plastic pollution. We see plastics in the ocean, we see plastics in species' stomachs and chemistry is basically the answer to almost everything because everything in the world is made from chemistry.
I work as an analytical technician at Polymateria. We try and deal with the crisis around plastic pollution through our advance science and technology where we try and modify the molecular structure of plastics, using chemistry, so that they can biodegrade in the natural environment.
I chose to study chemistry because it is a very complex subject and it's a subject that always makes you think and it challenges you and I love a challenge. I did a degree at university in biological resources which focuses on the chemistry of raw materials.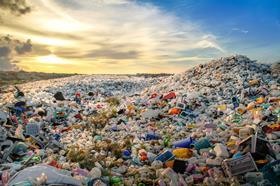 After many months of applying and looking and going to interviews, I finally found my break at Polymateria. I want to work for a company or an industry that has a purpose and is trying to make the world a better place. We are tackling one of the biggest problems that we have in our modern society which is plastic pollution and knowing all the harm it does to the environment and to the people that live within that type of environment is really important to me and every day it motivates me.
My skills are in material sciences, understanding the way a molecule functions and how the plastic is formed. We are always looking for ways to upgrade and to improve our technology, through innovation, through brainstorming and what I love about it is every day there is something new to learn.
Although I work full time at Polymateria, I'm currently doing a masters in environmental engineering which will give me even more skills and knowledge to be able to apply to my job that I'm doing.
Choose something that you are interested in, a type of industry that you'd like to be part of and then from then on, as a chemist there will always be something you can do in that industry. I'm very proud of being a chemist because I know that what I'm doing will make a positive change to the world.
First published 2020