'Red hot science - chillies, capsaicin and chocolate' will give UK students a taste for chemistry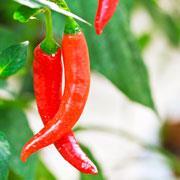 Students at The Cheltenham Ladies' College in Gloucestershire, UK, will get a taste for chemistry with an innovative new project. The school been awarded a Partnership Grant by the Royal Society to develop an actvity entitled 'Red hot science - chillies, capsaicin and chocolate'.
The project will see 11-19 year old students growing their own chilli peppers and then using chemical sensors recently developed at Oxford University to measure their heat. The activity aims to give an introduction to botany, statistics and electro- and organic chemistry, and will also highlight the importance of chemical sensing in the modern world.
Students will have the opportunity to meet and work with experts in agriculture, electrochemical and analytical science.
Richard Compton of Oxford University's chemistry department, who will work with Cheltenham Ladies' College for the duration of the project, said: 'our electrochemical sensors for species such as chilli and garlic will provide a platform for pupils to devise their own research projects and stimulate understanding of the impact of science and engineering upon their day to day activities.'
The Partnership Scheme, run by the Royal Society since 2000, offers funding for schools who work together with scientists or engineers to develop and deliver projects to engage young people with science.
Related Links
Royal Society Partnership Grants
Further information and application details