September 2011
What a summer this has been!
What a summer this has been! First there were exam papers with unanswerable questions, then accidentally published results both north and south of the border, followed by the scramble for university places. There has been a positive ending though, with a record number of chemistry places being filled at our universities. This is fantastic news as we work towards our goal of attracting more students to study chemistry and pursue it as a career.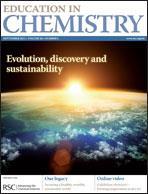 In this issue our features take a journey through time. We start by finding out how our atmosphere evolved over billions of years to be able to sustain life as we know it. Then we look at fluorine, and how it claimed many lives on the path to its discovery. Finally, John Emsley explains why we need chemists to find ways to sustain the fragile balance of our existence and development. This is, of course, one reason why we need to continue to attract more young people to the field of chemistry.
We will only achieve this if the standard of our teaching can capture the imagination of our students and motivate them to realise the important role chemistry plays in daily life. I am pleased to announce that I have recently been appointed managing editor of Chemistry Education Research and Practice (CERP). Over the coming months I hope to develop a synergy between EiC and CERP and suggest ways that you can apply the latest research to your own teaching practice.
There was a huge response to Keith Taber's Endpoint in issue 4 which is summarised in Feedback. You can continue the debate about the role of school science experiments online at Talk Chemistry. In this issue Andrew Hunt considers how to avoid teaching 'bad science' to 14 -16 students. To support your teaching further, we have introduced a video to Exhibition chemistry and provided links to other relevant online resources which you might find useful.
I wish you all a fun and rewarding new teaching year.
Related Links
Chemistry Education Research and Practice
The journal for teachers, researchers and other practitioners in chemistry education
The online community for chemistry teachers