Ultrafast pyrolysis is taking the hydrogen out of banana peels
Researchers have devised an ultrafast biomass splitting process using flash light irradiation to convert dried biomass powders, such as banana peel, into valuable gases and solids, including hydrogen and biochar.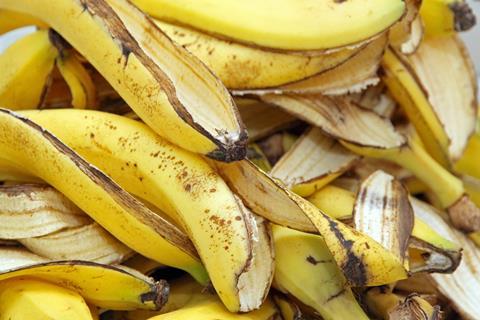 Banana peel contains carbon, hydrogen and oxygen in the form of carbohydrates, water and proteins. The banana peel is initially dried at 105°C for 24 hours to remove moisture before being ground and sieved to create a thin powder. Then, the powder is exposed to a flash of a xenon lamp. Xenon lamps produce bright white light that closely mimics sunlight and enables the temperature of the molecules to reach over 1000°C for a few milliseconds, splitting them into smaller gaseous molecules and solids.
The process generates 100 litres of hydrogen (along with carbon monoxide, some light hydrocarbons and 330 grams of solid biochar) per kilogram of banana peel powder. The process also works with corncob, orange peel, coffee beans and coconut shell, with the potential for a range of other materials, including industrial wastes.
The main problem with the process is the low efficiency of xenon lamps. It is hoped that as the process develops, comprehensive life-cycle analyses and economic assessments will fully assess the environmental and economic benefits of the technology.
A starter slide of this article with questions to use with your 14–16 students: rsc.li/3BB6Gfj
Downloads
PDF, Size 0.21 mb

PowerPoint, Size 9.53 mb

Neil is an experienced chemistry teacher and head of chemistry at Bancroft's School, London.
View full profile