Roger Barnett has been working at TWI in Cambridge as a project leader since 2008. He talks to David Sait about his typical day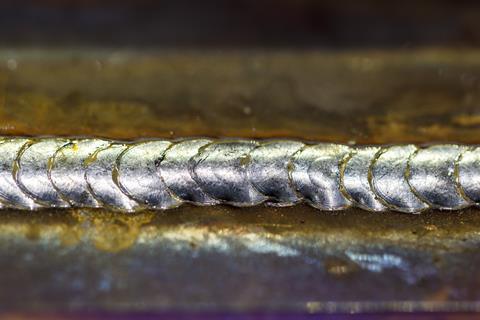 Roger joined TWI's graduate scheme after doing a PhD but a doctorate is not necessary for the scheme. Graduates generally join either as technicians, with a focus on laboratory work, or as project leaders like Roger.
Roger works in the metallurgy, corrosion and surfacing technology group. It is part of his job to investigate why a customer's welded steel joint failed or how and why a sample corroded.
His team often work for the oil and gas industry - investigating metals, polymers and ceramics in saltwater or hydrogen sulfide environments. This involves studying the underlying microstructure of the metal using optical or electron microscopy, x-ray diffraction and a variety of mechanical tests and so Roger's chemistry background is vital.
Roger is also responsible for managing the heat treatment facility at TWI. During the year, 50-60 people may need this equipment to analyse and treat samples at temperatures up to 1500°C. It's Roger's job to allocate time to the furnaces and ensure that the equipment is accurately calibrated.
A typical day
Roger is involved with many different projects simultaneously so his day will include a variety of activities. He has to be organised to manage his time and juggle different projects with different deadlines.
For shorter projects that are a few weeks long, Roger will manage the whole process from start to finish. He will do perhaps 10 per cent of the laboratory work himself and delegate the rest to colleagues with specialist training. With these projects the job is not just to see why something failed but also to work out how to prevent the same problem in the future. It's Roger's job to report these findings back to the client.
Larger projects can last from three months to two years or more, and might involve the manufacture and testing of new equipment for a customer's project. On such large projects, Roger is part of a team including managers, technicians and support staff. Although he wouldn't do all the work Roger would be involved at all levels, coordinating testing, analysing data and liaising with customers.
TWI also has an active internal research programme, conducting blue-sky research and studying interesting industrial phenomena. For this, Roger searches the literature and does experiments just like when he was doing his PhD. Past TWI research has led to many industrial breakthroughs, like the invention of Friction Stir Welding, which was used to make space shuttle fuel tanks.
The spice of life
Roger says that every week he learns something new or encounters a new challenge. It is this, together with the daily mix of research, lab work, project management and working with clients, that he enjoys most about his role.
Pathway to success
2008–present, project leader at The Welding Institute
2004–2008, PhD in Materials Science and Metallurgy from the University of Cambridge
2000–2004, MSci in Natural Sciences (with a chemistry and materials specialism) from the University of Cambridge
1998–2000, Mathematics, Further Mathematics, Physics, Chemistry and Economics & Business Studies A-levels at St. Clement Dane's School, Chorleywood
This article was originally published in InfoChem