Adam Hunt is a man passionate about communicating the diverse range of careers that chemistry can lead to. He is now a regional education coordinator for the RSC. He tells Josh Howgego what a typical day at work looks like for him
Adam's passion for communicating science arose when he became a chemistry technician in a high school. After completing his degree, Adam thought that working life might be one full of analysing lab samples. However, through helping teach chemistry, he began to realise what a breadth of options there really are.
He rose to the challenge and went on to work at a science festival where he organised events to promote and provide information on careers in chemistry. In that role Adam worked with a wide range chemists. He now works for the RSC educational division, where he uses his knowledge to 'matchmake' these people with schools and educational events where they can share their enthusiasm for chemistry.
Adam enjoys travelling as part of his job, and a good thing too, as he does lots of it. He is responsible for the Royal Society of Chemistry's (RSC's) education activities across the whole of south east England. He visits schools, colleges and universities across that area, developing relationships with teachers to see how the RSC can support their teaching.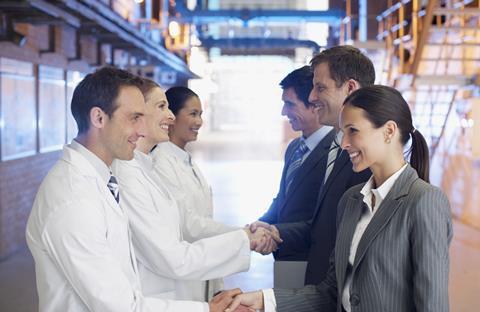 As part of his everyday work, he helps teachers to make contacts with his network of professional chemists. He also organises careers talks for students as well as providing printed resources and other guidance. Whatever help a school needs with chemistry, Adam can normally arrange someone who can assist. He can also advise teachers about funding for educational projects (the RSC itself provides this in some cases) and writing proposals to apply for grants. To make all of this work, he needs really good interpersonal skills. He uses his time management skills so that his ideas and input can be delivered in good time for school events, ensuring that everything runs smoothly.
Speed networking
One of Adam's proudest achievements was organising what he terms 'speed networking.' This event put 15 or so chemistry professionals in a room with teachers who take turns to chat with each of them for five to ten minutes. In a very short space of time, each teacher is aware of 15 career opportunities for chemistry students. If each teacher then tells just 30 students, that's something like 500 people who now know more about where chemistry can take you. It's a very effective tool for learning and raising the awareness of careers in chemistry.
Not a black art
The message Adam wants us to take away is that chemistry is not a black art. It's an integral part of many jobs, from the production of household products like hair gels and cleaning sprays to the intrigue of investigative forensic science.
Pathway to success
2011–present, Regional coordinator, education, RSC.
2007–2011, Coordinator of education for SATRO Ltd.
2005–2007, Coordinator of TechFest science festival.
2002–2005, BSc in conservation biology, University of Aberdeen.
2001–2002, High school science technician, Hampshire.
1997–2001, BSc in applied biosciences and chemistry at the Robert Gordon University, Aberdeen.
1997, Scottish Highers in maths, english, chemistry, physics and biology.
This article was originally published in InfoChem