Hayley Simon meets a chemist who built a successful career after some early setbacks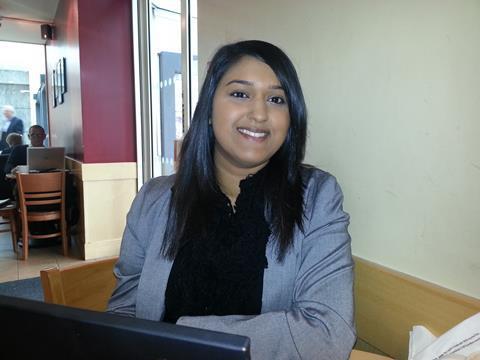 Despite failing chemistry in school, Neelum Munir never gave up. She retook her exams, eventually getting a B in chemistry, and went on to study Medicinal Chemistry at St Andrews University, Scotland. Now, nine years later, Neelum works for a company selling chemicals and chromatography instruments to universities and industries across Scotland.
Overcoming defeat
In her fifth year at Kirkcaldy High School in Fife, Scotland, Neelum began studying for her Scottish Higher qualifications. 'I failed higher chemistry, and I failed it to the point that I don't think I even got a grade,' Neelum confesses. Although she takes responsibility for the result, she admits that her teacher played a part too, 'It was my fault. I basically didn't pay attention, the teacher was a really good, fun teacher but he never challenged us, never pushed us.'
The following year, Neelum retook her chemistry Higher, this time with a different teacher. 'In sixth year, I had a teacher that really did push us and made us sit down and work. I ended up getting a B at higher, and went on to do chemistry at university.' Initially, Neelum enrolled on a biochemistry course, but things didn't progress smoothly. 'When I got into my second year of doing biochemistry, I actually failed biology – I just didn't get it! I found the chemistry side was a lot easier, I could get it and it was a lot more enjoyable. That was a turning point. That's when I moved to medicinal chemistry.'
In the workplace
Neelum graduated with a 2:1 degree and a month later started work with VWR International, a company that supplies laboratory equipment. To begin with, Neelum worked as an account manager for the Edinburgh and St Andrews areas and was responsible for the day-to-day running of the accounts. After two years with the company, Neelum moved into her current role as chemicals and chromatography specialist for Scotland. Now, she is responsible for selling chemicals and chromatography equipment to clients across Scotland. She travels around the country, meeting people from industry and universities, and explains the products to them on a technical level.
Every day, Neelum is able to use the knowledge from her chemistry degree without being stuck in a lab or an office. The job also comes with flexible working hours. 'We are field based, so we make our own appointments and decide who we go and see,' Neelum explains. In one day, Neelum will often meet several clients and sell a different product to each professional. This means she has to adapt quickly to talk about each unique item.
Breaking the mould
The nature of the work means that good social skills are a must-have for Neelum. 'My most advanced skill is just to be sociable and have a bit of a laugh,' she jokes, but she doesn't think that this is the traditional view of a scientist. 'A lot of people have the perception when it comes to chemists that they are geeky, nerdy people who are socially awkward,' but Neelum herself doesn't fit this stereotype, and she suggests that anyone with an interest in chemistry should also try to break the mould expected of a scientist.
Having overcome difficulties in her school career, Neelum has gone on to be very successful in the workplace. Advancing from graduate to account manager to chemicals and chromatography specialist in just three years is a huge achievement. In the future she hopes to continue this success, but her main goal is to be happy and enjoy life.
For anyone thinking about a career in chemistry, Neelum warns that you should only pursue it if you have genuine interest. 'It's not easy and you have to really work at it,' she says, but if you do enjoy chemistry then she recommends diving straight into it. 'Really study it and you'll find that a lot of things around you just fall into place when it comes to chemistry.'
Pathway to success
2013–present, Chemicals and chromatography specialist, VWR International
2011–2013, Account manager, VWR International
2006–2011, BSc in chemistry with medicinal chemistry, University of St Andrews, Scotland
2006, Scottish Highers in English, maths, geography, chemistry and human biology. Advanced Highers in geography and biology, Kirkcaldy High School, Fife, Scotland
This article was originally published in The Mole