Geertje teaches the next generation of microbial biochemists and leads the development of bio-based materials
Mae'r proffil hon ar gael yn Gymraeg
Hi, I'm Geertje (she/her) and I work as an associate professor in microbial biochemistry at Swansea University.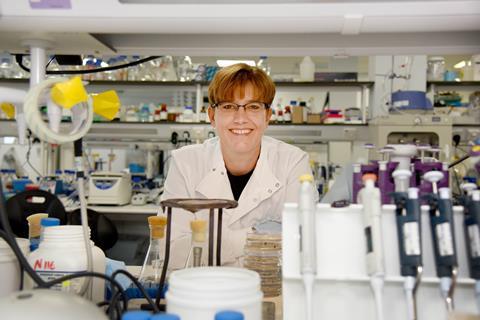 What does an associate professor in microbial biochemistry do?
My role involves higher education teaching, research, innovation and public engagement. There is no 'typical' day as an academic. One day, I could be aiding students' learning in biochemistry and microbiology or marking student assessments.
The next day, I could be discussing material-based problems and solutions with military staff, or discussing hydrology and environmental chemistry with soil scientists, or wastewater with analytical chemists. On another day, I could be speaking with fellow researchers across the globe about new research and innovation ideas! Some days can be tedious and frustrating with lots of (unnecessary) admin tasks.
How does your job affect the world around us?
I lead and work within a range of teams across different disciplines. For example, I am leading the development of materials for the defence sector using bacteria as inspiration for new nano-scale adhesives and coatings. I also work with chemical suppliers to develop and test products for the wet leisure industry (think hot tubs, swimming pools, etc) to ensure safe use of chemicals and a healthy bathing environment.
Salary range and qualifications required
Salary range: Postdoctoral researchers, £27K–£39K (Prospects).
Minimum qualifications: PhD or EngDoc.
How did you find your job? How did your qualification help you to get there?
I applied for a lectureship position which was listed on jobs.ac.uk. Throughout my qualifications, I developed subject-specific and transferrable skills, knowledge and competencies.
What do you love about your job?
What I love most about my job is that my research and innovation ideas come to fruition. I also get to train the next generation of eager microbial biochemists.
What skills do you need for your job?
You need team-working, problem-solving, data-handling and technical skills, communication and more! The skillset of an academic is very long as academics have so many different roles and responsibilities.
Why did you choose chemistry? What keeps you motivated?
I chose to study chemistry as I had and still have a very broad interest in the subject. For example, in my degree, I liked organic and polymer chemistry, chemical engineering, biochemistry, crystallography and high-resolution imaging (electron microscopy). Chemistry allowed me to develop as a versatile scientist with a solid base for so many disciplines and sectors!
What advice would you give to a young person considering a career in your field?
I would advise anyone to have an open mind, immerse themselves in opportunities and not be too worried about choosing a specialisation.
What do you see yourself doing in the future?
I hope to continue to understand how microbes function and evolve as they are amazing chemical, materials and soil engineers offering bio-inspired solutions for the many global challenges that society is facing.
Want to know more?
Geertje Van Keulen MRSC, associate professor in microbial biochemistry at Swansea University.
Hear from more chemical scientists in Wales
Discover profiles of other chemical scientists working in Wales, ranging from pollution control and pharmaceuticals to product development and more.
Published August 2022