Discover how one approach can improve student problem-solving skills and performance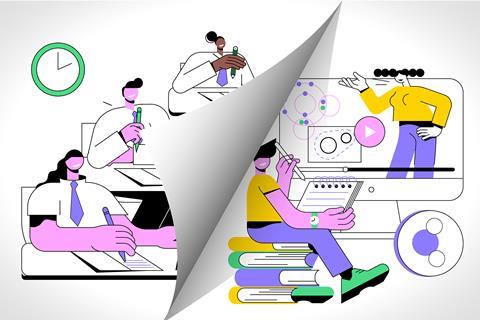 Pre-pandemic, the flipped learning (or flipped classroom) approach was becoming increasingly popular. Now it's even more accessible, given the familiarity most educators have with online learning tools.
In a flipped classroom, students do what was traditionally in-class learning as pre-class work, usually in an online format. This frees up time to carry out tasks in class that students would traditionally have completed as extended homework to consolidate learning with teacher support.
The popularity of the flipped classroom has generated a substantial amount of research into its potential. Most of these studies have been in higher education settings rather than secondary schools. Researchers have done very few of these studies over an extended period.
A recent study by researchers from China used two groups of students to compare the flipped classroom approach to the traditional approach in a secondary school chemistry setting. There were 46 students in the flipped classroom group and 50 in the traditional approach group.
A longitudinal comparison
Importantly, this study used the same teacher in both groups and covered one academic year. The researchers were interested in understanding comparative academic performance, problem-solving skills and students' perceptions across both groups.
The flipped classroom approach consisted of a pre-class phase during which students engaged in self-directed learning using videos and online tests. This was followed by an in-class phase where the teacher corrected misconceptions based on the online tests and provided problem-solving practice. In the after-class phase, students did online tests focused on problem solving, self-evaluation and reflection.
Both the first and second semester test scores were significantly higher for those in the flipped learning group
The traditional approach followed a similar pattern, except that all the activities were carried out in class, with the online resources replaced with real-time, teacher-directed activities. One notable difference in the traditional approach was that it contained only one instance of 'active learning', or a problem-completion activity.
The academic performance and problem-solving skills of both groups were assessed at three points over the academic year – at the beginning of the study, after the first semester and after the second semester. Perceptions of flipped learning in the flipped classroom group were also measured at the end of the first and second semesters.
Teaching tips
It's important that you stay on top of whether your students have mastered the fundamental concepts because they develop the necessary problem-solving skills slower than is sometimes reflected in their academic performance.
Adopting a flipped learning approach could place an additional workload burden on students as they will need extra time outside of the classroom to complete pre- and post-class activities. You could manage this by replacing or adjusting the amount of regular homework you give them.
If some students become negative about flipped learning over time, it might help to give them some extra attention. They may need support with their self-regulation skills to better engage with this approach.
Flipping outcomes and opinions
For academic performance, both the first and second semester test scores were significantly higher for those in the flipped learning group, compared to the traditional group.
Interestingly, at the end of the first semester there was no difference in problem-solving skills between the two groups. However, by the end of semester two, the flipped classroom group outperformed the traditional group. Problem-solving skills rely on a well-developed understanding of underlying concepts, which is in line with the observation that it takes longer to observe a difference in test scores for problem-solving skills.
Most students preferred the flipped learning approach. However, by the end of the second semester views were polarised, with a small number of students in the flipped classroom group developing a more negative attitude.
This study supports the flipped classroom approach as a useful strategy that can improve student performance and problem-solving skills over a long period.
Reference
L Yu et al, Chem. Educ. Res. Pract., 2023, DOI: 10.1039/d2rp00339b
Fraser Scott