Becky Parker introduces an initiative that allows school students to participate in scientific research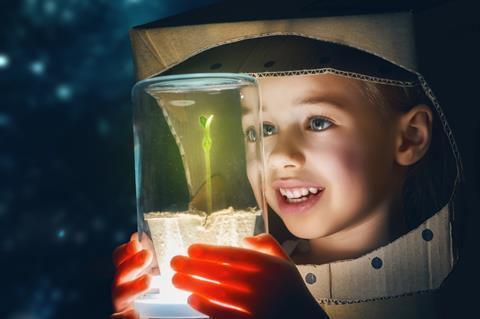 I am a passionate physics teacher and also director of a charitable organisation that supports teachers and students carrying out real science research in schools. While politicians and university admission systems may think otherwise, there is more to school science than A-level results. I want school students to see the excitement and opportunities beyond the curriculum. We have found that allowing students to design their own experiments and contribute to genuine scientific research inspires them in a way following a formulaic recipe to prove a 100-year-old constant never could. For work carried out under the umbrella of the Institute for Research in Schools (IRIS), the answers are not in the back of the book, the apparatus is not laid out and the method isn't foolproof. The students get to truly experience the ups and downs of life as a scientist.
Physics professor Lawrence Pinsky at the University of Houston, US, has heaped praised on our initiative: 'If you can give students the thrill of discovery, it will be contagious, it will be addictive! It's like the students are playing at being NASA or the European Space Agency; only they're not playing, they're doing the real thing.'
Gaining momentum
Officially launched in March 2016, IRIS now has over 230 participating schools from across the UK. It works with UK universities and industrial partners to design low cost apparatus that can be loaned out to these schools, creating a simple teacher toolkit with optional accredited professional development courses. It also manages a simple online platform to make big data accessible to classrooms.
And so far students involved in our early projects have launched their equipment on a satellite, published in peer-reviewed academic journals and completed doctorates in STEM subjects. Alongside the benefits for students, we have found that teachers are also enthusiastic and find it reinvigorates their practise. Our toolkits are aimed at non-specialist subject teachers, and we are always available for any questions. We also run research symposia to allow students to share and exhibit their work.
We are developing metrics to evaluate the impact on six key indicators: aspiration, confidence, continuation, contribution, collaboration and enjoyment of science. We realise we are also significantly enhancing students' soft skills in communication, critical thinking and creativity.
Programmes are being designed across numerous disciplines including space science, particle physics, material science, transport, marine science and biomedical science. Our largest national research project, TimPix, which uses CERN technology to measure the radiation field on the International Space Station, has recently been promoted by NASA to US schools.
If you can give students the thrill of discovery, it will be contagious, it will be addictive!
Our initial projects have predominantly been in physics and biology, but we are currently developing two chemistry projects:
Ionic liquids
The ionic liquids project has been hosted at my school for over a year. Robert Palgrave from University College London designed the experiment, which allows school students to help him and his masters students with their research. This project involves students from four local schools, who meet once a week for synthesis, measurement and discussion.
Students are familiar with ionic compounds as high melting point solids and this project challenges how they learn in GCSE chemistry. Robert starts by discussing the electrostatic forces between ions and then moves on to how chemists can break these rules.
When a powdered organic salt is mixed with aluminium chloride, an ionic liquid is formed. As this is a relatively new area of chemistry, the synthesis of ionically-bonded liquid materials offers the chance for students to discover new substances with unknown properties. Alongside basic computational chemistry on their school computers, the students visit Robert's lab to analyse the materials they create. The ionic liquid project students are familiar with NMR, UV, IR and Raman spectroscopy.
We are confident this experiment can be translated to schools nationally, who can visit local universities to characterise their creations. We are in the process of applying to the Royal Society of Chemistry for money to develop our teacher toolkit, and will then apply to local sections to cover the small costs of consumables. If you're keen to get involved, please get in touch.
Amazing atmospheres
IRIS has secured a Space for All grant from the UK Space Agency to develop a project linked to the European Space Agency ExoMars mission. While the Schiaparelli landing may not have gone to plan, the Trace Gas Orbiter mission is still on track. The Amazing Atmospheres project will see trace gas analysers installed in schools, and at sites of cultural significance such as the Eden Project, across the UK. Students will evaluate the atmospheric gas content at these locations, and then compare the data to that collected by the Trace Gas Orbiter. All data will be uploaded, shared and nationally mapped.
On 17 January 2017, to coincide with the Trace Gas Orbiter moving into 'Science Orbit' and beginning to collect data, we will have an online research symposium to launch the Amazing Atmospheres project.
We hope you will join us with one, or both, of these projects and look forward to more young chemists becoming part of our institute's story.
Becky Parker is director of IRIS, a physics teacher at Simon Langton Grammar School for Boys and a visiting professor at Queen Mary University of London
Becky Parker is director of IRIS (www.researchinschools.org), a physics teacher at Simon Langton Grammar School for Boys and a visiting professor at Queen Mary University of London