Different resources can be used via virtual learning environments (VLEs) to support teaching and learning. Discussion forums, self-assessment resources, videos, and podcasts can all form part of such 'E-learning' software systems. But what are the potential benefits of VLEs and what constitutes best practice?
In Short
VLEs provide a central repository for course information and resources

VLEs support independent learning and can be used to reinforce class and practical work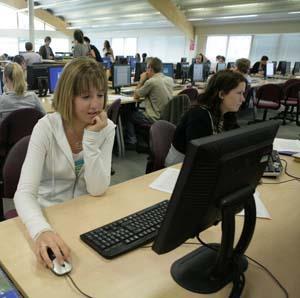 The term 'E-learning' will provoke a range of different responses from teachers. While some may view it as the future of education, others will see it as a gimmick with the potential to increase the teacher's workload. The extent to which E-learning has been deployed varies from school to school, and even between departments within a school. The Internet already provides a range of learning and teaching resources and as teachers we have to make frequent decisions about how we use these resources to help our students learn. Here we give a flavour of the educational opportunities presented by 'virtual learning environments' (VLEs) for teaching science in schools and colleges. We are not experts in the field, but we do have a sense of the positive outcomes that we have observed in our own practice and that of colleagues.
Getting started
Much of the administration of a course can be managed from within the VLE, allowing a wide range of people to have access to course materials in addition to saving time and paper. Perhaps the most common use of a VLE is as a simple repository for documents such as worksheets, PowerPoint presentations and exam papers. Also popular are calendars, which can include exam dates, coursework deadlines and anything else of relevance. Many departments are also starting to post homework activities on their VLEs, allowing students and parents to access homework via the Internet. Materials can be uploaded once, then made available to several classes, and can continue to be accessible in subsequent years. Access to documents can be restricted to particular groups of students, teachers or parents, or can be made public.
Increasingly, VLEs are allowing students to submit work online, and evaluate their own work as well as each other's. Such self- and peer-assessment activities can be done on computers in the classroom or at home, opening up a whole range of new possibilities for teachers. Students can pose questions to each other (or to the teacher) using a forum which the teacher has setup on the Internet, which has the added advantage that students can discuss and communicate their ideas and address problems. Teachers can interject at appropriate opportunities to gauge understanding and provide guidance and direction to discussions where appropriate.
Over the past two years, Alton College, a sixthform college in Hampshire, has implemented a VLE into all aspects of college life. Most subjects have their own online courses which provide access to a range of resources. Students can access course documents at any time, providing they have access to a PC with an Internet connection. This gives students a genuine opportunity to consolidate their learning outside of the classroom, and encourages them to study independently.
Alton's site is impressive by virtue of the vast quantities of documentation available. Resources from external bodies, such as those from the National Learning Network, are integrated into the different course subjects, giving students access to a range of multimedia content relevant to their studies. Chemistry students, for example, can access a pre-course study pack which provides information, questions and answers, as well as a podcast, which gives them tips on tackling the Salters' open book exam. As with all subjects, students can complete course evaluations and give feedback to their teachers online, eliminating the need for paper-based activities. Of particular interest to teachers will be the use of assessments and online mark books. Interactive tests are created online and completed by the students, which can be marked automatically, with marks being added to the VLE mark book for the teacher (and student) to view.
Indeed, many VLEs now allow teachers to create assessments which automatically give feedback to students. In some cases, different feedback can be given for correct and incorrect answers to provide genuine formative assessment. Cynics may suggest that this is no substitute for teacher-student interaction, but such resources support independent study. Other innovative uses of VLEs include videos, podcasts and interactive self-assessment.
Using short videos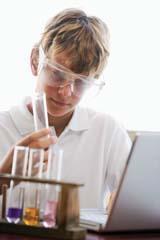 Videos can be used in many ways to support teaching and learning in chemistry but increasingly teachers are uploading or linking to videos on their VLE. Again this gives students the opportunity to take more responsibility for their own learning outside of lesson times. Videos can be made from PowerPoint presentations by using screen capture software, or they can be made in the traditional way by using a camcorder. Videos of practical activities can be used, for example, by students to revisit observations linked to an experiment that they have done themselves. With careful questioning the teacher can be confident that the students have made the expected observations, leading to a development of their understanding.
Videos can also be used to stimulate discussion. We used a short clip of putty being placed in liquid nitrogen to elicit students' ideas about polymer structures and intermolecular forces. We then asked them to explain the properties of the putty at room temperature and when frozen, and then link these properties to the strength of the intermolecular forces and the temperature required to allow these forces to be overcome. The lesson progressed onto a discussion about the glass transition temperature. Since liquid nitrogen is not commonly available in schools, this video enabled our students to have access to a scientific observation not normally available to them.
Videos of practical experiments can be linked to complementary resources on the Internet as well as to questions designed to stimulate students' ideas on what they have observed. The latter can be used to reinforce classwork.
Podcasts on VLEs
A podcast is an audio recording which can be accessed on demand via the Internet. The term 'vodcast' is increasingly being used to refer to 'access on demand' video recordings. An Internet search will show that podcasts can provide a range of new teaching opportunities. Sarbjit Gill, a science teacher at Theale Green Community School, uses a podcast to support Y10 students in their preparations for some GCSE module exams.
In the run up to exams, most students will at some point turn to one of the many revision guides now available. Some schools, recognising the value of revision guides, provide them to students free of charge. However, many teachers are concerned that over-reliance on such guides could lead to a lack of foundation knowledge and understanding required in science. To counteract this Gill decided to record a podcast to talk the students through several pages of a revision guide and re-emphasise the key learning points covered in lessons. The recording was done on a standard mp3 player with built-in microphone, uploaded to the VLE, and made available for download. The podcast proved very popular with the students, many of them claiming to have listened to it many times.
Interactive self-assessment using a VLE
Self-assessment strategies, which allow students to work at their own pace outside of the classroom, are a good way of building their confidence in a subject, and the VLE can be used to deliver these activities. To evaluate the effectiveness of this approach we set a series of homework activities, including calculations, short-answer questions and descriptive/explanatory long-answer questions. We checked the work to ensure that it had been done, and the students were then given access to the answers, which were stored in the VLE and could be accessed like any webpage. The model answers in this case had been hand-written and scanned in as image files (but could have been typed in, or scanned from published mark schemes). We prefer to use handwritten mark schemes because the students appreciate the 'personal' touch. The mark schemes were designed to show the students exactly what needed to be done to get the marks, as well as giving them tips on answering similar questions in future and highlighting common misconceptions.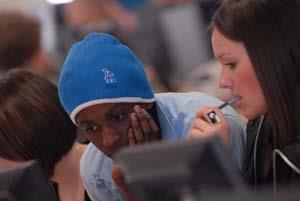 By using the in-built survey tool of the VLE software, we asked students to enter their marks for each question and comment on their answer and understanding in light of self-assessing their work. Finally, they had to respond to the question: 'What are you going to do to improve your performance in future?'. This elicited a range of positive responses from students across the ability range. The activity gave us the sort of insight into the mindset of the students that would normally only be achieved by interviewing them on an individual basis during lesson time. The use of this procedure meant that we could identify those students who needed support in particular areas, plan to provide that support in a timely and targeted fashion and thus use valuable teaching time efficiently.
We have found that the activities available on VLEs appeal to all types of learner and the instant feedback gives them a feeling of success. Students have commented that they feel they had the attention of the teacher, and the feedback that they received enabled them to identify the next steps in their learning.
We hope that this article has given a useful overview of some of the applications of a VLE in supporting the teaching and learning of chemistry. We would welcome contact from teachers who have been involved in similar activities, with a view to disseminating best practice across the country.
Dr David Read is a school teacher fellow in the school of chemistry at the University of Southampton, Highfield, Southampton SO17 1BJ. Emma Baker is a chemistry teacher.