Get the low-down on the newest science qualification available to students in England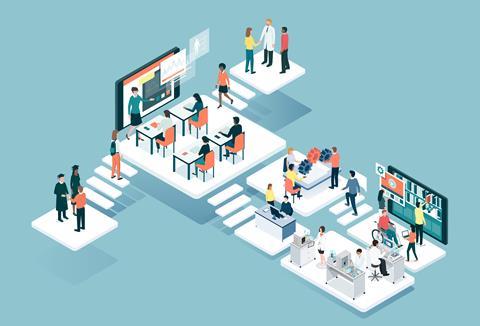 September sees the launch of health and science T-levels at around 80 English schools and colleges. These technical education programmes for 16–18-year-olds include an industry placement lasting at least 45 days (or 315 hours) and will run alongside A-levels and apprenticeships.
Most industry placements are planned for the end of the second year of T-level courses, but many fear it will be difficult for schools and colleges to line them up in time, especially given the Covid-19 pandemic's impact on T-level marketing.
'Industry placement is a very exciting and innovative part of the T-levels, but it's potentially the most challenging,' says consultant Sharon Moore, an education technical advisor for the Department for Education and a relationship manager for the Association of Colleges (AOC). 'Trying to get the message to employers that it's not work experience can be difficult. It's very different,' she adds. 'Students will be coming with a lot of technical knowledge and skills.'
'Students will come out not only with the knowledge but also the skills and the behaviour. They will know how to do the job'
Arranging placements 'remains a big challenge', agrees Toby Underwood, manager of accreditation and careers at the RSC. He suspects many employers are still unaware of the existence of T-levels.
Lynda Broomhead, head of faculty for academic and scientific studies at Petroc College of Further and Higher Education in Devon, had a mixed response from the employers she contacted about placements. Those already offering apprenticeships sometimes need persuading of the benefits of T-levels. For science T-levels, some employers have concerns about students understanding confidentiality, as well as insuring those aged under 18.
Petroc is the Centre for Professional Technical Education (CPTE) for the health and science T-level route. As a CPTE, the college is a 'leading light', providing training to help set up and run T-level courses. Part of the training covers the unique selling point of T-levels. Lynda summarises: 'Students will come out not only with the knowledge but also the skills and the behaviour. They will know how to do the job and will be useful to the employer.'
The health and science route
Within the health and science route are T-levels in health, healthcare science and science. They share some core knowledge before splitting into subject-specific core content and then occupational specialisms. For science, these are laboratory science, metrology and food science. At this stage, most science providers are opting for laboratory science.
Core teaching includes managing data and the principles of good scientific practice, as well as scientific concepts such as the structure of cells, tissues and large molecules. Students will also learn about scientific methodology, experimental equipment and ethics.
Harlow College in Essex is another to run health and science T-levels from September. 'The T-levels have real potential to be successful,' says Becky Jones, vice principal in charge of quality and curriculum. The key lies in giving industry confidence that work placement students will have the right skill set, she suggests.
The drive to recruit employers may be helped by the government's recent announcement that they will be able to claim a £1000 cash boost for every T-level student, up to 20 individuals. The fund has been set up to support employers affected by the pandemic.
University uncertainty
As well as concerns over industry placements, T-level providers are also frustrated by the slow pace at which universities are demonstrating acceptance of T-levels, despite the fact they come with UCAS points.
'Universities are coming on board, but some are saying that they want to see what it looks like for 12 months. Those are the barriers that you need to break down,' says Lynda.
'At the moment, not all universities are actively promoting T-levels as an entry requirement,' says Becky. 'A lot of our students that do a science pathway go to university so those that are interested in the T-level don't want to have that door shut for them.'
Student awareness
Student awareness of T-levels is also low, partly because providers have not been able to visit schools as they normally would, says Simon Boyce, director of student services at Harlow. Although the college ran several virtual information events, it is 'probably not in a place we would have been in had we not had the pandemic', he says.
'Because T-levels potentially have a slow growth, there is a risk that if you turn off BTECs too early you might really narrow the opportunities'
There are no national entry requirements for health and science T-levels. Many providers are asking for GCSEs at grade 6 in English, maths and science, according to Lynda, although Petroc is initially asking for grade 5s.
BTECs at risk
With T-levels in place, Petroc has decided to discontinue its applied science BTEC, although some providers, including Harlow, have chosen to run both. The UK government is currently reviewing level 3 qualifications, assessing the amount of overlap between them. As a result, some qualifications may be defunded by autumn 2023. With its T-level overlap, the applied science BTEC is at risk.
'The applied science BTEC and other qualifications are well understood and well used. If they were to disappear, that would pose a risk for inclusion and participation at level 3. That's a direction of travel we are not keen to see,' says Danièle Gibney, programme manager, curriculum, qualifications and assessment at the RSC.
'Because T-levels potentially have a slow growth in getting employers engaged in offering placements, there is a risk that if you turn off BTECs too early you might really narrow the opportunities,' she adds.
As with all significant changes in qualifications, it will take a while for T-levels to bed in. Despite concerns, there is much excitement. 'If this is done well, the T-level students will give A-level students a run for their money,' says Lynda.
Not sure where to start when discussing T-levels with students? This Study options information will help.