Discussions from the magazine, website and social media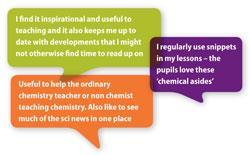 Survey 2011 Prizewinners
Congratulations to the lucky winners of our Readership Survey competition:
Simon Hiscocks, Sutton Valence School
Vaila McClure, London
K Fiona Morris, Eltham College
Mr Horsburgh, Ullapool High School
Rebecca Roberts, Glyncoed Comprehensive School
Paul Longden, City of London Freemen's School
Tim Bridle, Brentside High School
Michael Aicken, Skegness Grammar School
Oliver Choroba, Charterhouse
J Hutchinson, Imberhorne School
Jayne Dean, Huddersfield
Simon receives £100 in Amazon vouchers, and the runners-up each receive a set of RSC puzzle books.
Letters
PHVO - a call to modify exam specifications
I am concerned that some A-level and GCSE specifications continue to have a reference to the use of partially hydrogenated vegetable oils (PHVOs) in margarine as an example of an industrial application of chemistry.
This is objectionable on a number of grounds: partially hydrogenated vegetable oils are high in trans fats which are considered a significant health hazard, and the UK has no branded spreads or margarines which contain PHVO, so the reference is largely out of date.
Perhaps most significant is the misunderstanding this can generate in students and indeed the wider population. If the use of PHVO in margarine is stated as a fact, then a student may become aware of the health risks and consequently become worried of consuming margarines or spreads, when actually there is no PHVO in these products. I understand that PHVO is still used in some catering establishments but many others are advertising the PHVO-free nature of the food.
It is possible that the whole EU may move to a ban on PHVO, following the lead of Denmark and Austria. Indeed, the National Institute for Health and Clinical Excellence recommended such a ban in 2010. I believe it is time to remove this item from specifications or at least to modify it considerably.
Neil Barker, John Leggott College
Solid potassium hydrogen sulfite does not exist
I read with great interest about the multiple applications of potassium compounds in everyday life.1 In particular, the use of potassium hydrogen sulfite (KHSO3) as a food additive particularly attracted my attention because, although the hydrogen sulfites of sodium and potassium are widely believed to be stable compounds, they have never been isolated as pure solids.2,3
Indeed, when their aqueous solutions are concentrated to crystallise the compounds, dehydration takes place and the metabisulfites or disulfites (M2S2O5) are isolated.4

The fact that MHSO3 (M = Li, Na and K) have never been isolated as pure solids, while the hydrogen sulfites of larger cations such as rubidium and caesium are known, can be explained by means of a thermodynamic cycle and used as an interesting teaching activity.2,3
Aqueous solutions of KHSO3 can be obtained by dissolving K2S2O5 in water or by reaction of SO2 with KOH, KHCO3 or K2CO3. Nevertheless, evaporation of KHSO3 solutions gives rise to solid K2S2O5. Therefore, unless it is supplied in solution, the food preservative E228 (KHSO3) is indeed the same as E224 (K2S2O5). In the same way, E222 (NaHSO3) is probably the same as E223 (Na2S2O5).
The European Union should revise the list of approved food additives in the light of the known chemistry of hydrogen sulfite salts.
David Tudela, Universidad Autónoma de Madrid, Spain
Back to basics for teaching physical chemistry?
As a teacher of AS/A2 physics and chemistry, I have taken note of the comments from Neil Barker with much interest regarding the dearth of physical chemistry at AS.5 Indeed, as a chemist who teaches physics I have noted that A-level chemistry specifications encourage little in the way of teaching physical chemistry from basic experimental data using a logical reasoning to develop mathematical arguments which can accurately describe the data observed.
In my experience, sadly, much AS/A2 physical chemistry has become about 'plugging' numbers into equations, knowledge of the derivation or origin of which is not required. This approach does nothing to inspire the able, and serves to dilute the study of physical chemistry as a subject and to push students to physics and mathematics where such an approach to problem solving can still be enjoyed.
Perhaps to encourage a more mathematical approach to physical chemistry, we could do more to enable students to record more data from simple experiments and find simple mathematical relationships, such as proportionality, from graphical plots. Derivation of equations can follow using mathematical arguments putting some 'meat on the bones' of the physical chemistry subject content.
Perhaps a return to this 'back to basics' approach of teaching physical chemistry could revive an interest amongst students still mourning the loss of their chemistry practicals?6
Stuart Walker, McAuley Catholic School, Doncaster

Goodbye school science experiments?
Thank you to everyone who responded to Keith Taber's Endpoint in issue 4. We received detailed letters from a number of readers. You can read them in full by downloading the file on this page.
Comments from the social media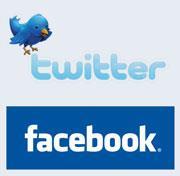 We are grateful to those who retweeted our link to the article which helped more people to discover the piece and add their opinion.
Thanks to @alomshaha who included a quote and a link to the original piece in his item on the Guardian website.
Facebook
Michael McCormick saw the article which was featured on our Facebook page. He commented:
'Many good points made. I can't agree that cost and supposed safety issues should prevent us from undertaking practical work with a class - the safe handling of dangerous materials is a valuable skill. Also, the engagement fact should not be underestimated.'
'I feel that Keith was writing from the perspective of a university academic looking down, but if he had had the chance to see year 7 pupils engaging with experiments through chocolate, he may change his view.'
Talk Chemistry
The article initiated a lengthy debate on Talk Chemistry. Here are just a few highlights.
David Everett was first to post. He said: 'The Getting Practical programme has as its central theme that learning from practical work is more likely to be successful if the aim of a particular activity is clear. I recommend this course to all science teachers'.
'You would not attempt to teach art solely by studying art history, nor PE by watching a game of football on TV, so why make the suggestion that science is an exception?', said David Foley.
He continued: 'Chemistry is a practical subject and this practicality means it is not to everyone's tastes. With the costs of university degrees rising, we cannot be sending students to study higher level chemistry without experience of the practical nature of the subject.'
Gordon Watson wrote:'To be honest, I find a lot to agree with in this article.'
'Practical work can be great fun, can be a focus for other important skills such as data handling and graph drawing, can help break up heavy chunks of theory, can help kids learn to organise themselves, can help them work in a Group ..... the list is almost endless.'
'How much does it add to the understanding of our subject? How much of it is genuinely 'experimental?'
'These are valid questions that the author is asking.'
You can read all the contributions in full, and carry on the debate at Talk Chemistry.
Related Links
Are science teachers using experiments as props in lessons?
Guardian blog entry by Alom Shaha
EiC Facebook Page
Become a fan of Education in Chemistry on our Facebook page
Talk Chemistry
The online community for chemistry teachers
EiC on Twitter
Follow us on Twitter @RSC_EiC
MyRSC Readers Group
Join our readers group on MyRSC and let us have your comments on the magazine
EiC on LinkedIn
Join the Education in Chemistry group on LinkedIn
Contact and Further Information
EiC Editorial Office
Royal Society of Chemistry, Thomas Graham House, Science Park, Milton Rd, Cambridge CB4 0WF
Tel: +44 (0)1223 420066
Email: EiC Editorial Office
References
Education in Chemistry, May 2011, p72
D Tudela, J. Chem. Educ., 2000, 77, 830 (DOI:10.1021/ed077p830.1)
H D B Jenkins and D Tudela, J. Chem. Educ., 2003, 80, 1482 (DOI: 10.1021/ed080p1482)
N N Greenwood and A Earnshaw, Chemistry of the Elements (2nd ed), p 719. Oxford: Butterworth-Heinemann, 1997
Education in Chemistry, June 2011, p104
Education in Chemistry, June 2011, p128