Good practical work, poor practical facilities and Teaching chemistry - at the coal face
Good practical work, poor practical facilities
Peter Borrows, Amersham Old Town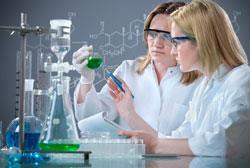 Two reports by CLEAPSS for the Royal Society of Chemistry (RSC)1,2 showed that too many existing laboratories were uninspiring - even unsafe - and that their replacements were often mediocre. Now, a report by the Commission for Architecture and the Built Environment (CABE)3 on the Government's Building schools for the future programme castigates not just the laboratories but 80 per cent of the buildings. In response to the CABE findings, the RSC has published its new Guidelines for excellence in school science accommodation,4 which sets out principles for good lab design that if followed by decision makers in schools will provide high quality science teaching facilities.
However you define practical work,5 it certainly includes activities involving beakers, Bunsen burners, fume cupboards etc so you need laboratories. Schools should be inspiring but laboratories are work areas - and so must work. There is often a misguided faith in form over function. Consultation with staff and students is vital but giving a head of science the plans to peruse over the weekend is not consultation. The more zany ideas need to be tempered with a dose of reality. White, formaldehyde-based laminates look smart - until somebody spills iodine on them or puts down a hot crucible. Kitchen-quality cupboards are not robust enough to withstand continual onslaughts by classes of teenagers. Fire alarms fitted with smoke sensors (as opposed to heat sensors) will be triggered by many routine chemistry activities.
All this, and more, has been known for years.6 So why is it disregarded? Too many new buildings are built in a rush, with unrealistic budgets. Architects don't understand what happens in school laboratories. Nobody is aware of the guidance or looks for any. When last-minute cuts have to be made there are uninformed, arbitrary decisions. At one time, local authorities had architects who designed workable, albeit uninspiring, schools. They also had science advisers who could point out that science departments do need prep rooms and chemical stores. This body of expertise has gone or is not tapped.
Will the RSC's new guidelines help? I hope so but fear not.
Teaching chemistry - at the coal face
Frances Dainty and Stuart Walker, Ridgewood School, Doncaster
With the popularity of science and engineering subjects in higher education in decline and the consequential national shortage of scientists and engineers, the Government has initiated two major reforms in schools - the national Science, Technology, Engineering and Maths (STEM) agenda which aims to promote interest in the core National Curriculum subjects in schools, and the imminent Science Diploma. We believe that educational projects that promote cross-curricular learning and the application of science and engineering in the workplace will be essential to both these initiatives because they show students how science and engineering works in industry.
At Ridgewood School, we have recently developed educational links with a local company, Powerfuel, to promote interaction between the STEM subjects while giving our students a taste of how STEM is crucial to the workplaces that employ scientists and engineers. Powerfuel has recently re-opened the closed Hatfield colliery at a cost of £100m and plans to use the coal it produces to power the first large, clean coal power station in the world which is to be built on land adjacent to the pit. This clean coal plant will run on the hydrogen gas generated from coal so that the electricity produced from the power station will be environmentally friendly with almost zero emission of carbon dioxide. Any carbon dioxide produced will be captured and piped away for storage in the former oil and gas aquifers underneath the North Sea. The learning potential in such a revolutionary project is immense and has potential to inspire the scientists and engineers of the future.7
The re-opened colliery will provide an excellent context for teaching school science, including catalysis, process chemistry, carbon capture, combustion science and environmental monitoring. The work-based learning our students will do will not only enable them to study science and engineering in a cutting-edge industry but will also actively promote careers in STEM.
We believe that such innovative 'joined up' approaches to meeting the vocational and STEM agendas should be replicated - in the sense of a similar approach being applied in the context of local circumstances and possibilities within the broad national agenda - at other schools and colleges across the UK. Then not only will the learning experienced by our young people be greatly enhanced through the joint involvement of industry, schools and higher education, but also we will educate scientists and engineers in greater numbers and of an even higher calibre.
Related Links
CABE
A design 'threshold' is needed to ensure the quality of BSF (Building Schools for the Future) schools.
References
Laboratories, resources and budgets, RSC, 200Improving school laboratories?, RSC, 2006
Threshold needed to halt poor school design, CABE, 2008
Guidelines for excellence in school science accommodation, RSC, 2008
P. Borrows, Educ. Chem., 2008, 45 (1), 32.
Science accommodation in secondary schools, Building bulletin 80, DfEE, 2004
S. Walker, Chem. Rev., 2007, 17, 2-5.