Step into teaching spaces where every aspect of the layout has been meticulously planned to enhance teaching and learning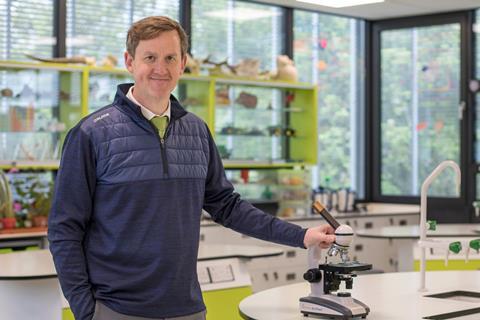 Meet Humphrey Jones, who's been teaching for 22 years, 18 at St Columba's College in Dublin. He teaches students from ages 12 to 18. This involves teaching the Irish Junior Cycle science programme as well as the Transition Year (TY), where teachers in Ireland have the freedom to develop their own science curriculums. Humphrey also teaches Leaving Certificate biology – roughly equivalent to A-level.
Tell us about your school
St Columba's College is on the outskirts of Dublin city, south of the Liffey and close to the Dublin mountains. It's a large 150-acre campus with great views of Dublin city and bay to the east. St Columba's is rather unique, in an Irish context – it's a private seven-day boarding (six-day teaching) school, founded in 1843. It's deliberately small, just 350 pupils, which allows for small class sizes and for teachers to develop strong working relationships with our pupils. Unusually, most of the teaching staff live on campus with their families, so the college is a great community.
Show us your teaching space
Want to share your teaching space? Then email us and your favourite space or display could feature in EiC online and in print.
And what do you love about your lab?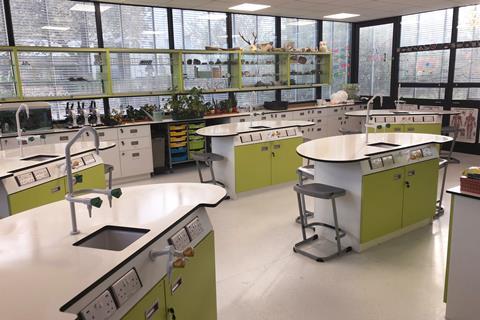 Almost everything! In 2016, the science building had a complete makeover, transforming it from a cold, dark and gloomy space, to a bright, vibrant and inspiring learning environment. Originally built in the early 1970s, the science building is of architectural significance in Ireland, so its restoration needed to be carefully managed and respectful of Robin Walker's original design. The architects asked if the teachers wanted to provide input on the learning space design and we relished the opportunity, ultimately coming up with a unique and bright space.
I love that my lab is unlike any other in the country – it's a unique space, custom-made for teachers' and pupils' needs. What I love most about it is the light; it's south-facing and has three walls made entirely of glass. Light streams in and gives a great sense of space.
How would you describe the set-up?
The labs here all have a pod-based layout and we chose a bean-shaped design for the pods. The pupils sit on the curved side when doing theory work, away from the distraction of the taps and switches. The other side contains all the necessary equipment, gas, taps and sinks for practical work. Each pod sits four students comfortably and each classroom has six pods.
It's easy to wander around the classroom and check in on the pupils when required. There's a teacher's desk in front of two whiteboards and a large interactive monitor (another of my favourite things). There are storage areas for books and some equipment on one side of the classroom. At the back of the lab, there are cupboards, drawers and clever storage solutions to keep all our necessary bits and bobs. There is clever storage built in to the frames of the windows at the back of the classroom, letting light in. This was a design feature adapted from the original 1970's building design.
What's your favourite part of your lab?
I don't really have one. I tend to wander around the classroom as I teach (the layout allows for easy movement, pod to pod). I really like my prep room, conveniently located beside the 'bio lab'. The bio lab used to be two separate spaces (biology and chemistry), but we knocked the dividing wall down during the renovation. We now have an enormous space with all the necessary storage for equipment and chemicals, as well as a shared workspace where staff can sit and chat about work, teaching ideas or the weather.
What makes it unique?
It's one of a kind … we designed the layout of the lab and the features of the pods around how we wanted to teach and our pupils to learn. Yes, there are four other labs, but each has a different accent colour; the bio lab is vibrant green. I don't have much wall space to present pupil posters, so I get my pupils to draw on the windows with chalk markers. It adds another fun layer to the classroom.
With an unlimited budget, what would you add to your classroom?
While our budget wasn't unlimited, we were extremely lucky to have the freedom to develop our own classrooms. At the time, I was pushing for a teacher wall with storage and flexible space. That didn't materialise, but perhaps in the future.
What have you learned from your lab design journey?
It required some deep reflection on what our department valued in science education. The process was truly invaluable. When we sat down to discuss potential lab designs, our initial questions were about how we should teach the subject and then we asked what design would suit that. There were other restrictions like available space and budget, but the act of reflection was ultimately central to the design philosophy.
So I'd say the key lesson learned is: when you're arranging your classroom, think deeply about how you want to teach and how you want your pupils to learn.