Find out how Kevin keeps his learners engaged by sharing industry context and talking about toys
Meet Kevin Forsyth, who worked in the petrochemical industry before teaching – and loved it. He was an expert in his field, with a wealth of skills dealing with rogue equipment, supporting operation technicians and liaising with various teams.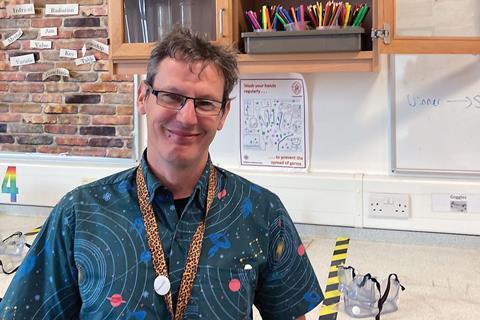 But after almost 20 years working in industry, he needed a new challenge. So he decided to become a science teacher. He's now been teaching in schools for nine years, and is currently teaching at Falkirk High in Scotland. He teaches BGE science S1–4, National science 4–5, Higher tier science and Advanced higher chemistry.
Tell us about your school
Falkirk High is a state secondary school with around 1100 students. It was originally founded in 1886, so the school is almost as old as I am. Our science department benefits from a wealth of talented and experienced staff. Two of us teach chemistry, and we deliver courses in discrete sciences, forensic science, lab science and criminology. It's a busy mix.
What's your classroom set-up like?
Organised chaos! Not really. Depending on what we're covering in lessons, I rearrange desks regularly so students can sit in different pairs or groups of four, to facilitate discussion and group work. It can refresh attitudes, establish new working relationships and dismantle the inherent desire to only work with friends. It also emphasises that we're all here to help each other.
Show us your teaching space
Want to share your teaching space? Then email us and your favourite space or display could feature in EiC online and in print.
And what's your favourite thing in your lab?
The collection of film-related toys at the back of the class. It invariably captures students' attention and reminds them that I'm a real person and that I like 'geeky' things – and that it's OK. It can start a lively conversation, or a dialogue that the students are comfortable to tackle. For example, why do I have a Gremlin character on top of my fume cupboard? Well, he's a Mogwai because I didn't feed him after midnight; and because he's comfortable there. Sometimes the first response needs some further explaining …
With an unlimited budget, what would you add to it?
Air conditioning would be a game-changer. Working together in a class when it's very hot is draining for everyone. I'd also love to have a physical periodic table with elements – as many as practical – or their physical uses (I'd look after the gold sample). If I could demonstrate the real-life applications or interactions for students, it would be easier to link chemistry topic areas to real-world context or applications.
What makes your classroom unique?
When I worked in industry, we used to say that every day was a school day, with the ever-changing problems, kit that didn't work, changes in production schedules, new operations – all in the midst of competing deadlines and impacts. I always hated the statement: those who can, do; those who can't, teach. I felt it devalued the work of the fantastic teachers who supported my skills and developed my learning so I could go on to build a successful career.
Now every day is a school day. And it's no less challenging or rewarding than the high-speed operations of industry. What worked last year seems less successful this year, so I change the tasks, the way I share information, and the skills required to develop the learners in front of me. I see my classroom as a space where I can share my industrial chemical expertise with my students. For example, if I demonstrate the problem-solving skills needed to determine whether a material is soluble in another, students might one day be able to transfer these skills when trying to understand and resolve a polymer agglomeration storm in an industrial plant. This experience is invaluable for them. That's why it's really important to me to give students real-world context for the learning.
Working towards a qualification is one part of the classroom experience, but when we teach chemistry, we're developing problem-solving skills that can be used in so many everyday contexts – and for a lifetime.