A mini museum, ceiling pH scale and solar system display – how Kemi shows her students that science is both exciting and relevant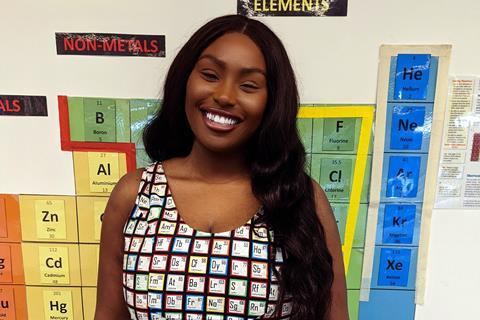 Meet Kemi Anigiobi, who's been teaching for three years. She teaches pupils aged 11 to 16 chemistry, biology and physics at a diverse state academy school in London, Ark Evelyn Grace Academy. Let's find out more about Kemi's vibrant teaching space.
How do you use your teaching space?
I like to teach from the front of my classroom. I use an interactive whiteboard and I also love to show my students how to apply their knowledge by modelling. I enjoy facilitating guided practice, whether using a visualiser or my graphic tablet. It's great to use the visualiser on my desk when I'm doing modelling or demonstrations, such as when I teach the different parts or functions of the Bunsen burner to eager year 7 students.
I always try to differentiate and adapt my teaching so I can respond to the strengths and different abilities of my students. In general, I make a point of staying updated with the current technologies and teaching methods, and I also try to stay aware of more traditional methods.
Show us your teaching space
Want to share your teaching space? Then email us and your favourite space or display could feature in EiC online and in print.
What's your favourite thing in your lab?
I love my large pH scale display because it is on the ceiling! It's peculiar and fun for students to look up and see it on the roof.
This is an example of how my lab inspires and motivates the students. I take great pride in using my classroom to bust the myth among students that science is boring. I want them to see that science can be vibrant, beneficial and applicable to everyday life. Using displays like the pH scale to make my teaching space inspiring has helped raise student aspiration and enthusiasm.
How is it set up?
My lab is quite modern and fresh and I can adapt things depending on the type of lesson I'm teaching, whether theory or practical. I really believe in the importance of a positive learning environment, so I try to make it nurturing, interactive and stimulating. I love creating colourful, educational displays to promote learning and inspire a love of science, like my wall poster on the structure of the atomic model. There's also a revision wall, where students can gain tips on revision and collect past GCSE chemistry papers.
What are you most proud of?
My wall-size periodic table. I created it during my PGCE year, and it has been such a useful stand-out teaching tool ever since. I've observed students becoming confident with using the periodic table to identify what they need, whether that's the atomic number or a group number. When teaching about the periodic table or atomic structure (or anything linked to these topics), I use a metre ruler to point to the periodic table, and my students are always so engrossed.
I am also proud of my model planets and galaxy asteroids, which I made from scratch using polystyrene balls. Each planet has some useful facts for students' reference.
And what makes your classroom unique?
I would say my mini science museum at the back of my lab. It sparks a lot of interest and questions. The aim is to get students to see that science is cool. And, here, students are not only excited to learn about different aspects of science, but they are also able to discover the depths of what science can be.
Some of the mini museum highlights include potassium permanganate made with pink food dye as well as a large model of a methane molecule. Students can see some everyday applications of the periodic table elements. Various apparatus are on display, such as a conical flask, a beaker and a Bunsen burner. There's a flame test, too. Pupils can learn about the pH of soil and how it effects the colour of hydrangeas. There are biology and physics displays, too, including a 3D human body anatomy poster and an interactive science careers underground display with QR codes.
It's truly amazing to hear my students say that they now like science, or that they want to be a doctor or scientist.