Discover how she keeps organised and adds creative touches to enhance learning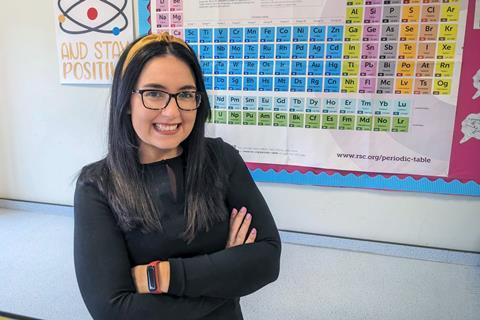 Meet Megan Donnelly, who teaches at St Ambrose High in Coatbridge, North Lanarkshire. Before teaching, she completed an integrated chemistry with teaching course at Strathclyde University. She knew she wanted to be a teacher while still at university, and graduated after four years with an honours degree. This meant she left school at 17 as a student and was back in school teaching at 21!
Tell us about your school
My school is based in a town just outside Glasgow, but we fall under a different council. So my school is unique in that we take pupils from primary schools in two different council areas, since our school is so close to each council border. The school has been around for over 60 years as a secondary state school, but in 2009 we moved to a new campus with a brand new building, including new labs. We have 10 labs in total and we definitely need them (if not more) as we have over 1400 pupils. We have three labs for biology, four for chemistry and three for physics, but we all share as and when needed.
Show us your teaching space
Want to share your teaching space? Then email us and your favourite space or display could feature in EiC online and in print.
What age ranges or curriculums do you teach?
I teach all year groups from S1–6 and cover BGE science in the lower phase and chemistry at National 5 and Higher level. I love teaching BGE science because I get to cover all three sciences and really get pupils excited about science and STEM. They love completing practical experiments and are generally so engaged. Teaching my own specialist science of chemistry is always a bonus because I can go into so much more detail, and pupils have chosen to study the subject.
How is your classroom set up?
I share my lab with another teacher who is a physics specialist, which is great because we work well together and exist cohesively. Our lab is split, with half the room dedicated to physics and the other half to chemistry, but with a clear colour scheme throughout.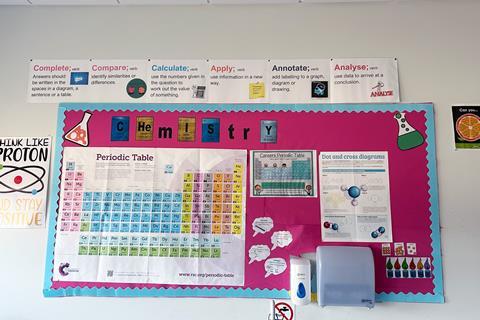 The lab has 10 desks in rows of three or four and we recently got new chairs with back support. The pupils much prefer these to the classic science stools. They've not only brightened up the room, but also give students great ergonomic support. There's a smart board which I use for PowerPoint presentations and videos as well as a board to write on at the side. Dotted around the lab are cupboards and trays for science apparatus, in the same locations across all 10 labs for continuity, especially for those of us who work across different labs.
What are you most proud of?
My favourite thing in my lab is my chemistry wall. I designed it last year and I love everything about it, from the classic RSC periodic table, to the Periodic table of careers. The pupils helped me pick out colours, so it really was a team effort!
And what's your preferred teaching spot?
I don't have one. I'm always moving around the lab, especially during practical activities, to check pupils are working and are safe. The pandemic restrictions were tough, especially in science, because we couldn't move about the classroom in the same way – I felt like I hardly knew the pupils.
What would you add to your lab if you had an unlimited budget?
I would definitely want those benches with built-in gas taps. I think they allow for more space in the lab, and I could keep a closer eye on pupils. Plus, it would be safer. Also, with unlimited funds it would be great to keep adding to how modern the lab is by adding a built-in fume hood. Then our poor technicians wouldn't need to bring it up and down the corridor. And I would love extra labs in the department. We are at capacity with our pupils, and it would be great to have more space for labs where pupils could have a full hands-on experience.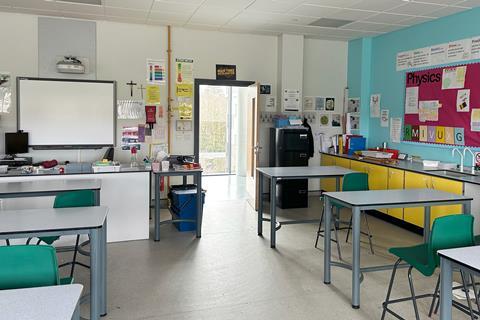 And what makes your classroom unique?
I am based in lab 10 – the last lab before another department – and there's a big glass panel outside which lets in a lot of natural light. The pupils love it when we can turn off the lights and take advantage of the natural light. It can be a nuisance, though, when it's a sunny day, particularly in the afternoon – we often need to rearrange the class so the sun isn't in students' eyes.
How do you find your lab-share set-up?
There are times when I am in other labs for lessons, so organisation is very important. I learnt this very quickly, especially when resources were at the opposite end of the department to the lab I'm teaching in. Not everyone is lucky enough to have their own lab, but it's always good to have a specific lab to store resources in, and maybe even add your own flair to it in some capacity (wall displays, posters, etc). I would recommend adding these touches in the lab you use most often because it can really help in the way of teaching aids during some lessons.

Deborah is assistant editor for Education in Chemistry