To be on the graduate scheme for research and development at my company you need to have a technical background but it's not essential that you have a chemistry background.
What do you do in your job?
My job is quite varied and it tends to go cyclically with the year because different things happen at different points throughout the year. At the moment we're busy planning budgets. A lot of that involves looking at different spreadsheets, we've got a large budget for research and development globally so we work quite closely with the finance teams to ensure that it's allocated appropriately, and that we can track it for the coming years.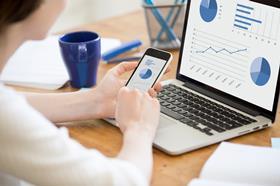 We give presentations to senior management to ensure that they're aligned with what we want to do with the money and make sure that we have sufficient funds to do what we want to do for the coming years. There's work with excel, there's work with powerpoint, pulling together presentations and then a lot of meetings with people and discussions.
On a daily basis I tend to talk to the category group directors about their budgets, I will review the spending of the previous month to make sure that we're on track, I will forecast out for the end of the year, to see whether we're on track for our budgets for the end of the year. I'll talk to my boss about where we are with that, so that he's aware of it and if we require any additional funding he can make the case for it. I will pull a presentation together so that we can communicate it to the wider organisation at the relevant time.
How did you get into your job?
I started off working on Air Wick for a year, in what we call the category, which is where you take a project the concept stage through to launch. After that I moved to the new technologies group, which is a more blue-sky arena, and then after that I moved to Germany for six months to work in the auto dish team. That was in the scientific services group which is more of a research and development, liaison with the factory team.
After that I moved to the Veet team for a year on waxes development, taking some products there through from the kind of concept stages towards launch and then I moved into my current role which is finance and planning manager for Research & Development (R&D).
What are the challenges?
The key challenges are probably similar to a lot of organisations; communication is a key challenge in ensuring that you're communicating with the right people at the right time, ensuring that you're on top of your timelines as well, that things don't drop behind because we've got products we need to launch to specific deadlines, we communicate new product developments to the trades, for example that could be supermarkets such as Tesco or Asda. They expect our products to arrive with them at a certain time, so we need to make sure that we've planned in accurately all the kinds of milestones, all the kinds of problems that we're expected to hit, what risks there are and make sure that people are aware of those and those are communicated sufficiently.
What do you enjoy most about your job?
The thing I really enjoy about this role is that I get an overview of all the products being developed within the organisation. I also like really getting to work quite closely with other functions, such as the marketing teams, and the supply manufacturing guys.
What advice would you give to people considering a future in chemistry?
Go for it. You are not committed to the science route if that's no longer what interests you, and the skills you gain from it can be very useful in a huge number of areas. The opportunity to travel to different places is not necessarily something you think of when you think of science but a huge number of organisations have opportunities internationally, so there's a vast array of different areas that you could become a part of, and I think that the skills you do learn in doing a science degree can be useful to you for the rest of your life.
First published 2014