A team of students from the Blue Coat School, Liverpool, prevailed over teams from 30 other schools to win the final of the Royal Society of Chemistry's (RSC) Top of the Bench national schools' competition held in London, in March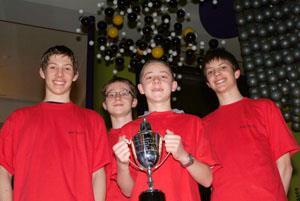 Organised by the RSC, the competition is an annual event run for 14-16-year olds. Teams from around the UK, Ireland and even from St John's International School, Belgium took part in the final. Held at the Science Museum and Imperial College's chemistry laboratories, competitors take part in challenging and fun activities designed to test their chemical knowledge, fact finding skills and practical skills.
The all-boy Blue Coat School team - Matthew Benton and Silviu Paraoan (both Year 9), Harley Jones (Year 10) and Vlad Paraoan (Year 11) - collected the coveted Top of the Bench trophy and a cheque for £500 to spend on school science equipment, beating Birmingham rivals King Edward VI Camp Hill Boys School into second place and a team from the High School of Dundee into third. This year the judges agreed that Jennifer Sage, a Year 11 student from North Halifax Grammar School, had displayed outstanding dedication throughout the day, and she received the Jacqui Clee award.
For further information on taking part in the regional heats of next year's competition contact Gemma Tobiasen, assistant education manager schools and colleges at the Royal Society of Chemistry.