The resin and tricalcium phosphate that's replacing real elephant ivory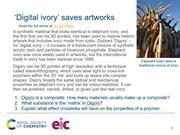 Download this
A starter slide to give your 14–16 students a new context when studying composite materials and thermosetting polymers.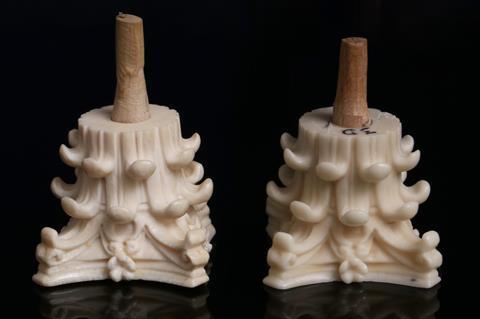 A synthetic material that looks identical to elephant ivory and which can be 3D printed at high resolution – dubbed 'Digory' for 'digital ivory' – has been used to restore historic artwork including ivory made from tusks.
The researchers have used Digory, which consists of a translucent mixture of synthetic acrylic resin and particles of tricalcium phosphate, to recreate several tiny ivory ornaments that had been lost from an ornate 17th century casket in a church at Mauerbach in Austria.
Elephant ivory was once widely used in such artworks, but the international trade in ivory has been banned since 1989. Restorers are reluctant to use real elephant ivory and it has become extraordinarily expensive, even when used in small amounts as is permitted under international law.
Other synthetic ivories exist, but the researchers say Digory is the first that can be 3D printed at high resolution with a technique called stereolithography, using laser light to cross-link polymers within the 3D 'ink' and build-up complex shapes layer by layer.
Digory boasts the same optical and mechanical properties as elephant ivory, say the researchers, and it can be colour-matched and made into any shape. It can then be polished, carved, drilled, or glued just like real ivory.
Read the full story in Chemistry World.
Downloads
Presentation | PowerPoint, Size 0.2 mb
Presentation | PDF, Size 0.2 mb

Neil is an experienced chemistry teacher and head of chemistry at Bancroft's School, London.
View full profile