Web watch: Josh Howgego looks at some websites that may be of interest to chemistry teachers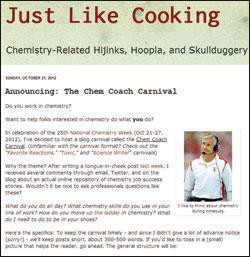 To celebrate the US national chemistry week, (21-27 October 2012) a blogger using the pseudonym See Arr Oh, created a blog carnival, highlighting the careers of professional chemists.
What's a blog carnival? A selection of people write blog posts on a chosen topic along a standardised template. They are then aggregated into one place for the world to enjoy.
This is genuinely a great resource for students thinking about careers in chemistry. It couldn't be more up to the minute - all the entries are written by people working in chemistry right now. There's lots of variety, demonstrating that a chemistry degree can take you in all sorts of directions: from science writers, to biotech start-up companies, from grad students to historians of science and rheologists.
My favourite entry was from 'Jess the chemist'. Jess is a postdoctoral researcher who penned such lines as: 'The first thing I do in the morning is make a cup of tea. Can you tell I am British?' and 'I get to learn about photolysis and pretty coloured lasers.'
And if that doesn't quench your carnival spirit, there are other chemistry themed fiestas out there too. Chemical and Engineering News asked their expert readership to describe their favourite reaction. And the chemistry blogger ScienceGeist ran a project looking for chemists' pet toxic chemicals. It turned up some intriguing results, including - worryingly - a chemical used in sun cream, and a class of compounds called lachrymators: chemicals that make your eyes water uncontrollably.
Contact and Further Information
Josh Howgego
If you know of any websites that should be reviewed in Education in Chemistry please email the title and URL to Josh Howgego.
Email: Josh Howgego