Pharma industry joins forces with funding council to provide 12 new PhD studentships in UK university chemistry departments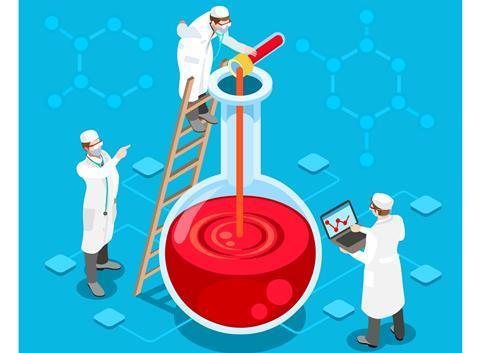 Twelve new 'EPSRC-Pharma Synthesis' PhD studentships, based in eight university UK chemistry departments, were announced in March. These studentships are part of an industry-research council collaboration launched two years ago to fund areas of research that are vital to the UK economy.
The Synthesis Programme is co-funded by the Engineering and Physical Sciences Research Council (EPSRC) and the pharmaceutical giants Pfizer, GlaxoSmithKline and AstraZeneca, and is a reflection of EPSRC's growing interest in a funding model that emphasises industrial-academic collaboration. The main objective of the programme is to maintain and strengthen support for synthetic organic chemistry research, which underpins R&D in the pharmaceutical industry.
Currently, there are 30 students on the programme, representing some 27 research groups from 16 departments across the UK. The students meet on an annual basis, presenting their results to date, and get the opportunity to network with the academics and industrialists on the programme.
As part of this network, the students also have access to the combined technology and infrastructure of the three industrial partners, including up to six months placement with their industrial partner, and can communicate with all network members through a shared website. Opportunities are also available for students to attend training courses/conferences to meet their individual needs. David Pryde, assistant research fellow at Pfizer, told Education in Chemistry, 'we want to help students to reach their full potential by doing cutting-edge research and giving them access to the spread of experience and knowledge represented by their fellow network members. The programme recognises the challenges represented by an increased focus in the pharmaceutical sector on synthetic problem-solving and collaborative research solutions'.
The PhD studentships are awarded on the basis of competitive review of proposals submitted by UK academics. For further information about the programme visit the programme's website.