Mark Baron reviews this introduction to chemistry for university students
Investigating chemistry. A forensic science perspective
Matthew E. Johll
New York: W. H. Freeman 2007 | Pp458 | £29.99 | ISBN 0 716 76433 4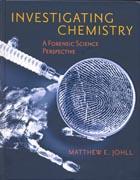 Intended for first-year university students studying non-science degree courses in the US that may have little, if any, background in chemistry, this book may be of limited value for UK students starting chemistry degree programmes. However, there may be a market with UK students who are studying a degree that includes some chemical science, but which does not have A-level chemistry as an entry requirement. This is the case with several forensic science degree courses and so both the content and context would be suited to these courses.
Each chapter is easy to read, starting with a forensic case study followed by a chemistry topic. The chemical principles follow a pattern often seen in standard chemistry textbooks at this level but the frequent examples of forensic science are a continuous reminder of the relevance of the science. The graphics, tables and diagrams helpfully present information in a different format, making it easier to understand and remember. The questions and answers at the end of each chapter reinforce what has been learnt and enable students to practise with different examples. The structure and layout have been well thought out from a student's perspective, where the complexity of the chemistry progresses gradually as each aspect is explained and put into context.
The book also attempts to teach quantitative aspects by providing stepwise approaches to calculations and problems with illustration through worked examples. Another useful feature is the introduction of several key analytical techniques used in forensic science. These are given in separate boxes within each chapter and would serve as a way of introducing techniques that are likely to be covered more in-depth at a higher level on degree courses. Further companion resources, including quizzes and case studies, can also be accessed from the publisher's website.
Since much of its content may also be covered in A-level chemistry syllabuses, this reasonably priced book might make a worthy addition to a school/college library. Teachers might also find this a useful source of ideas for creating more interest in their teaching.