Five students from Cumberland School in East London have been named the UK winners of an international science competition. Their winning entry features a sustainable system of domestic plumbing that stores and purifies water for re-use.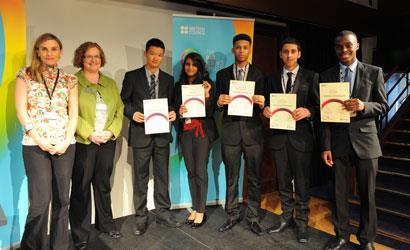 The Big Science Challenge was an international competition run by the British Council and Rolls-Royce. It invited schools in the UK and from Bahrain, Iraq, Jordan, Kuwait, Oman, Qatar, Saudi Arabia and the UAE to research and design an original, innovative solution to a problem concerning water, either locally, nationally or globally.
The winning entry from Cumberland School produced an intelligent system that captures water from a range of household sources including baths, sinks and even steam from showers. It incorporates UV light for purification and hydroelectric fans for power generation within the system.
The successful students win a five day visit to the city of Dubai in the United Arab Emirates. Patrick Brazier, a regional director with the British Council, said: 'The Big Science Challenge has given young people in the UK a chance to find a real scientific solution to a genuine problem and the talented students from Cumberland School in East London did just that. The educational visit to Dubai will not only allow them to share, explore and learn with schools in the Middle East, they will also forge international links with other young scientists and gain an invaluable glimpse into another culture.'
John Bradshaw, Headteacher at Cumberland School, said: 'We are delighted to have been named UK winners of The Big Science Challenge. It was a real challenge for our winning students to find a solution to water shortage but we are proud of the commitment, passion and enthusiasm they showed.'
Also of interest
The big science challenge
07 November 2011
The British Council is inviting secondary schools to enter a competition to win a trip to Dubai