A celebration of Education in Chemistry and those who have contributed to its success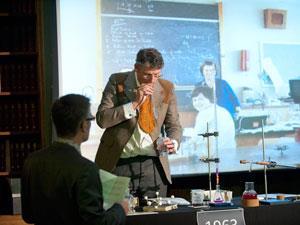 Last Thursday evening guests from the world of chemistry education gathered in London to celebrate 50 years of Education in Chemistry. The event, held at the Chemistry Centre, saw teachers, contributors and RSC staff past and present come together to honour the golden anniversary of the magazine, which was founded in 1963.
Guests enjoyed an evening of hospitality, entertainment and appreciation. Preceding the main presentation, guests were treated to chemistry canapé demonstrations, carefully prepared by Kay Stephenson and Bob Worley. John Carroll and John Dexter, current and former members of EiC's editorial board respectively, gave a lively and amusing presentation that illustrated some of the changes in chemistry education over the past 50 years. Highlights included the increased use of technology in learning, the more engaged role of the student and greater availability of teaching resources. Of particular note in this small work of theatre were the authentic 1963 costumes, interactive audience polling and the demonstration of pipetting by mouth.
Special guests included Bill Bryson, author, and Robert Parker, chief executive of the Royal Society of Chemistry. They paid homage to the publication which has spanned a period of great change in chemistry and education.
Bill Bryson reflected on recent issues of EiC and said that it reminded him how 'everything to do with everything, in one way or another, comes back to chemistry'. He said: 'Education and chemistry should be a high priority for any society and I'm full of admiration for Britain that it does so. What you do truly is a heroic work.'
Chair of EiC's editorial board, David Read, explained how his first encounter with the magazine was on his first day as a trainee teacher: 'The issue had just arrived and I was immediately struck by a very elegant article on the history of acids and bases.' His first ever lesson on the topic was a few weeks later and, armed with the article in hand, his students were quickly enthused. 'From that point forwards I was chasing the postman every couple of months to make sure I was the first to get my hands on the next issue. The value of EiC was very clear to see, whether you were a wet behind the ears trainee, like me, or an experienced practitioner like my mentor'.
David expressed his thanks to current and former members of the editorial board and editorial staff, a number of whom were present, 'for the fantastic contribution they have made over the years.' He closed by highlighting some of the current strengths of EiC, including its distribution to every school, college and university in the UK and Ireland, and the new website launched earlier that week.
Read how the day unfolded and see what our guests experienced with this collection of tweets on Storify.