Stephen Ashworth shares highlights from his recent sabbatical tour of presenting science shows and workshops in South African schools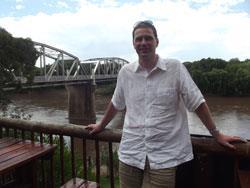 At about 5pm on 15 April this year I was met by my family at Norwich International Airport, and returned to the life I had forsaken for over three months. That time I had spent in South Africa travelling the country giving science shows and workshops at schools, science centres and the National Science Festival. In one hundred days I travelled over 11,000 km by road, 3,000 km by air, and led around 120 different events with audiences numbering about 10,000.
Custard and spectroscopes
The events included the 'Kitchen Chemistry' science show (hence the exploding custard!) and other science shows on lasers and on sound. I also held educator workshops to empower the teachers and science centre staff to deliver the material and adapt it as necessary. In addition I led the 'Build your own spectroscope' workshop where we built a box with two holes and a slit then turned it into a spectroscope with a DVD. The spectroscope workshop was usually in conjunction with the spectrometer in a suitcase that I also had along for the trip. At Scifest Africa I also led a 'Make your own slime' workshop.
Scifest Africa
This all originated from my links with Scifest Africa, the South African National Science Festival. In addition to their week long science extravaganza they organise a series of outreach initiatives across the country. My 'Kitchen Chemistry' science shows were proving a big hit with both teachers and pupils and I glibly mentioned the possibility of spending longer in the country by taking a sabbatical. Well, one thing led to another and almost before I knew it everything had come together.
My trip started in Cape Town in early January, without my checked baggage, which caught up with me in Grahamstown few days later. The first couple of weeks were spent in the offices of Scifest Africa in Grahamstown getting everything ready and ensuring I had equipment and spares. My first destination was, paradoxically, East London.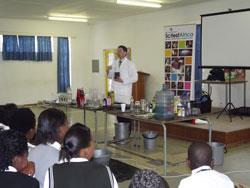 Townships and enrichment
In some areas I was able to have a base. I worked with the local department of education in East London, and the Science Centre in Newcastle and they both took me to local township schools. In some cases these schools served as venue to which other local schools travelled and sometimes there were more than enough pupils to fill the biggest hall the school could provide. At other places, such as the Science Centre in Durban and Sci-Bono in Johannesburg, I was able to present in the same place all the time.
I also stayed in Kimberley for a while where I not only worked with local schools, but the Maths and Science Leadership Academy, which takes hand-picked schoolchildren from a wide variety of local schools and offers additional curriculum support and enrichment activities. It was great to see the effect of discipline and high expectations on the children. There I was presented with a Certificate of Excellence for the three events I put on every day, and a large amount of biltong (air dried meat) that helped sustain me on my travels.
A little sightseeing
Where I had a base I had the opportunity to do some sightseeing. In Kimberley friends took me white water rafting in the Mokala National Park. It was a beautiful day and fortunately the rapids were not too rapid. I also managed to visit the Big Hole - the original diamond mine in Kimberley. Although I did not end up with diamonds on the soles of my shoes, it is an excellent exhibition and well worth a visit. During my stop in Pretoria my hosts took me for a weekend at their farm, where you have to be aware of baboons and the welcoming committee was a group of warthogs.
Lasers and murder mysteries
Scifest Africa, a week-long National Science Festival, took place after two more weeks in Newcastle and Johannesburg respectively. Every day I introduced the laser show with some information about lasers. I presented five science shows on the main stage and seven workshops. I also did a show at a local school as part of the iRhini festival, during which the presenters travel to schools in the area which are not able to bring their pupils to the main event. There were also a couple of murder mysteries in which I played a part - a cyclist in one, and a forensic scientist on a space station in the other. As a member of the Advisory Committee I was called upon to chair some of the invited lectures too.
After the festival I shared the stage with the Minister for Science and Technology at the official opening of the Nelson Mandela Bay Science and Technology Centre in Uitenhage, and managed to involve him in the show. Then it was back on the road and off to Richard's Bay where I was working with the staff at the UNIZUL Science Centre.
It was hard work and often tiring but extremely fulfilling. Given half a chance I would go back to do the same all over again.
Also of interest
Kitchen chemistry travels to South Africa
23 January 2013
Stephen Ashworth is on tour in South Africa to raise the public awareness of chemistry and physics, and to encourage children to pursue careers in science
Kitchen Chemistry in South Africa
02 April 2012
Stephen Ashworth has recently returned from taking chemistry, including the award winning workshop Kitchen Chemistry, to schools and learners in South Africa